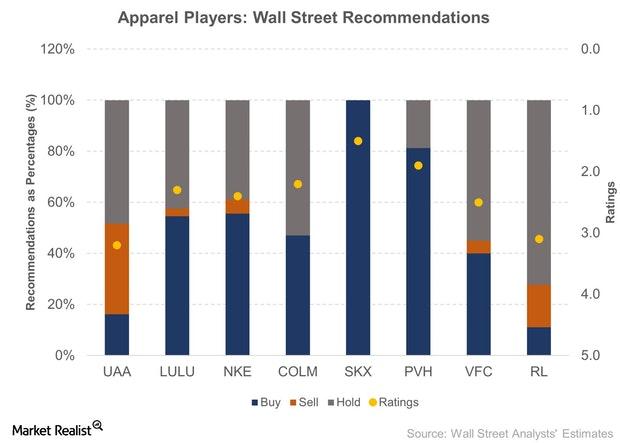 How Cowen & Co. Views VFC and Skechers
By Sonya Bells

Jan. 31 2018, Updated 11:02 a.m. ET
Cowen & Co. is bullish on Skechers and VFC
Cowen & Co. analyst John Kernan put forward his positive stance on apparel companies VF Corporation (VFC) and Skechers (SKX) after his visit to the 2018 Outdoor Retailer + Snow Show.
According to Kernan, Skechers' "management is increasingly optimistic about the women's business globally, particularly in U.S. wholesale. Management previously issued guidance for domestic wholesale sales +mid-single-digits in Q4 and high-single-digits in Q1:18 and trends could be above those levels given the overall macro environment and favorable product cycle."
Cowen & Co. rated California-based Skechers as an "outperform" and named the company as a "Best Idea for 2018." The company, which is covered by 11 Wall Street analysts, has been rated as a "buy" by all of them. 
There are no "hold" or "sell" recommendations on the sportswear player. Skechers is jointly rated 1.5 on a scale of 1 ("strong buy") to 5 ("sell").
Article continues below advertisement
Why is Cowen positive on VFC?
Kernan was also positive on VF Corporation's (VFC) North Face brand. He noted, "We toured the Steep and Summit series lines which both looked impressive, with likely premium price points and, we think, are a return to TNF's DNA after recent periods where the offering was perhaps weighed down by too much inventory in the U.S. wholesale channel – particularly sporting goods. We also are encouraged by partnerships with Nordstrom and Trunk Club."
Cowen has set a "market perform" rating on VFC. The company is covered by 20 Wall Street analysts, of which 55% suggest holding the company. Of the remaining analysts, 40% rate it as a "buy," while 5% rate it as a "sell." The company is rated 2.5 on a scale of 1 ("strong buy") to 5 ("sell").