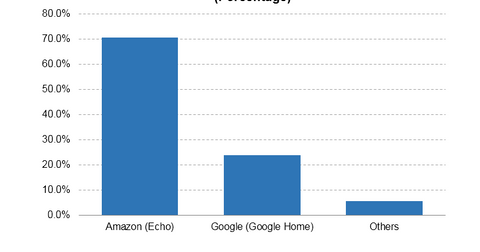 Google Offers Glimpse of What's on the Way for Assistant Software
By Neha Gupta

Updated
Google sees a lot of monetization approaches
Google, Alphabet's (GOOGL) revenue and profit machine, has serious monetization plans for its voice-processing software, Google Assistant. But the company isn't sharing all the details of Google Assistant monetization just yet.
At the recent Credit Suisse conference, Google's chief business officer, Philipp Schindler, simply talked about there being a "whole lot of different approaches" to Assistant monetization. However, Schindler delved into a little more detail about the foreseen roles and applications of the Assistant technology as computing interfaces evolve.
Article continues below advertisement
Place voice query and receive visual results
One use case that Google sees for its Assistant technology is what Schindler described as "voice-in-visual-out." This involves making a voice query through the Assistant and receiving the result in the form of an image or video that can be displayed on the phone's screen or a larger display like a television screen. Schindler described "voice-in-visual-out" as an interesting use case for the Assistant technology, adding that voice-in does not always need to mean voice out.
Shopping through voice commands
Google has inserted the Assistant into products such as Google Home, its voice-enabled speaker that competes with Amazon's (AMZN) Echo devices. Amazon has a firm grip on the US (SPY) voice-enabled speakers market with a 70.6% market share, according to eMarketer.
The Assistant in Google Home enables users of the device to order products from online retailers through voice commands. Before Walmart (WMT) joined Google Express as a retail partner, it had seen a trend where Google Home owners were using the device to order items from its site. Walmart, Kohl's (KSS), and Target are among the more than 50 retailers that have tapped into Google Express to extend their online reach in the battle with Amazon for control of the e-commerce market. Amazon's Echo device also supports voice ordering of products online.