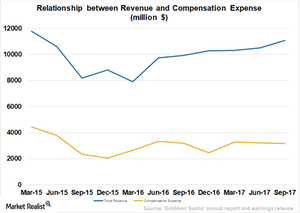 How Goldman Sachs Is Managing Its Expenses
By Raina Brown

Jan. 5 2018, Updated 10:35 a.m. ET
Classification of expenses
Goldman Sachs (GS) classifies its expenses into interest expenses and non-interest expenses. Non-interest expenses include compensation and benefits; brokerage, clearing, exchange, and distribution fees; market development; communications and technology; depreciation and amortization; occupancy; professional fees; and other expenses.
The bank's operating margin was 26.8% in 3Q17, 23.9% in 2Q17, and 24.6% in 1Q17, which was close to the industry median of 25.7%.
Article continues below advertisement
Interest expense
Interest expense includes deposits, short-term and long-term secured and unsecured borrowings, and collateralized financing. Interest expenses were $2.7 billion, rising ~51% from 3Q16, mainly due to rising interest rates.
Non-interest expense
Compensation and benefits are a major part of the bank's non-interest expense. For 3Q17, it was 59% of the total non-interest expense, while in 2Q17 it was 60%. It was $3.2 billion in 3Q17, which was about the same as 3Q16.
These expenses include salaries, estimated year-end compensation, amortization of equity awards, fixed allowances, and other expenses such as health and welfare benefits. Incentive-based compensation based on performance is also included in this category.
There is a positive correlation between compensation expenses and revenue. The above graph depicts that relationship.
Non-compensation expense
For 3Q17, GS's non-compensation expenses were $2.2 billion, a 2% rise from 2Q17 and a 4% rise from 3Q16. The increase in 3Q16 was due to expenses related to the online loan and deposit platform. That was partially offset by lower occupancy expenses.
Goldman Sachs's net profit margins for 2016 were 26.4%. Below are the profit margins for its peers:
Together, these banks account for approximately 28.6% of the Financial Select Sector SPDR ETF (XLF).