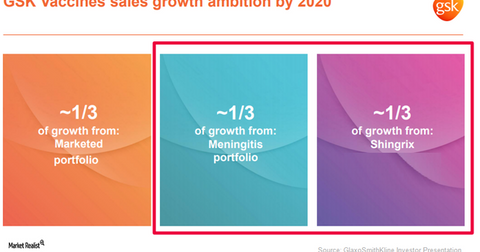 GSK Projects Modest Long-Term Revenue Growth for Vaccines Portfolio
By Margaret Patrick

Updated
Vaccines portfolio revenue growth rate
In its 3Q17 earnings conference call, GlaxoSmithKline (GSK) has projected its Vaccines segment revenues to rise annually in the mid to high single digits until 2020. The company has also estimated 30% plus profit margins for its vaccines segment by 2020. A major part of this growth is expected to be attributable to the newly launched Shingrix vaccine as well as rapid uptake of meningitis vaccines Menveo and Bexsero. GlaxoSmithKline accounts for around 0.68% of the Vanguard Total World Stock ETF's (VT) total portfolio holdings.
Article continues below advertisement
Novartis transaction
On March 2, 2015, GlaxoSmithKline announced the completion of multiple transactions with Novartis (NVS), which included the divestment of the latter's non-influenza vaccines to the former company. This deal was concluded for a consideration of $7.1 billion, involving a $5.3 billion upfront payment and $1.8 billion milestone payments plus future royalty payments from GlaxoSmithKline. This deal added MenACWY tetravalent vaccine, Menveo, and MenB vaccine, Bexsero, to GlaxoSmithKline's vaccines portfolio. Menveo and Bexsero have enabled GlaxoSmithKline to compete effectively with other vaccine segment players such as Merck (MRK), Pfizer (PFE), and Sanofi.
Menveo growth trends in 3Q17
Menveo earned total revenues close to 98 million pounds in 3Q17, which is YoY growth of 56% on a reported basis and 48% on a CER basis. The vaccine witnessed sales of 74 million pounds in the US market in 3Q17, which is YoY growth of 61% on a reported basis and 52% on a CER basis. This growth was mainly attributed to some withdrawals from the Centers for Disease Control and Prevention (or CDC) stockpile in 3Q16, which resulted in a benefit of around 30 million pounds in 3Q17. In absence of this one-time event, Menveo sales would have been flat in 3Q17.
GlaxoSmithKline earned revenues close to 6 million pounds from the sale of Menveo in Europe in 3Q17, which is a YoY rise of 50% on a reported basis and on a CER basis. Further, in 3Q17, the company witnessed Menveo sales close to 18 million pounds in international markets, which is a YoY rise of 38% on a reported basis and 31% on a CER basis.
In the next article, we will discuss growth prospects for GlaxoSmithKline's influenza and established vaccine portfolio in greater detail.