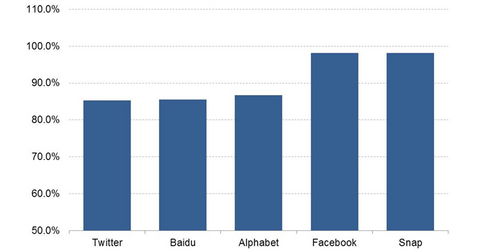 Facebook's CMO Discusses Reinventing Marketing in the Internet Era
By Neha Gupta

Updated
Uptake of digital marketing is slow
As far as Facebook (FB) is concerned, the transition from analog marketing to digital marketing has been too slow, especially at legacy CPG[1. consumer packaged goods companies] companies. The slow digital migration at incumbent CPG companies could partially explain why some of the largest companies in this space have been targeted by activist investors in recent years.
Facebook's chief marketing officer (or CMO), Gary Briggs, spoke at a recent technology conference organized by Wells Fargo. He discussed the migration to digital marketing and its impact on the industry's legacy elements.
Article continues below advertisement
Newcomers shaking up the industry for incumbents
According to Briggs, newcomers to industries such as CPG companies are shaking up legacy players because they have been quick to embrace different marketing strategies. For these legacy players to win in the digital era, they would need to overhaul their marketing organizations, Briggs added.
Toward this end, companies would need to staff their marketing departments with people who understand data and analytics as well as brands and advertising.
Facebook helps companies reach Internet consumers
With more than 5.4 billion subscribers across its various digital platforms, Facebook is a leading online advertising provider. Advertising sales represented 98.2% of Facebook's total revenues in 3Q17.
For Alphabet (GOOGL), the parent of Google, advertising accounted for 86.7% of its revenues in 3Q17. Twitter (TWTR), Snap (SNAP), and Baidu (BIDU) drew 85.3%, 98.2%, and 85.5%, respectively, of their 3Q17 revenues from advertising.