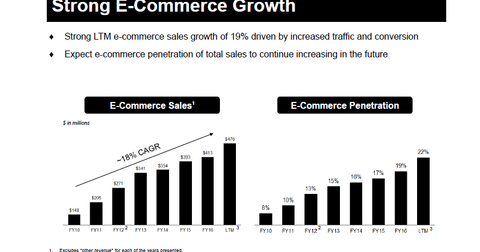 Express Views Digital and Omnichannel as the Way Forward
By Victoria Dean

Updated
Digital sales channel
Express (EXPR) is one of the leading specialty retailers in the US with over 600 stores. However, like all traditional retailers, the advent of online retailers and subsequent price wars has resulted in a subdued financial performance.
Express recently participated in the 20th Annual ICR Conference wherein it gave a detailed presentation regarding its growth initiatives. To fight the odds, Express continues to focus on cost cutting, rationalizing its store portfolio, creating brand awareness, merchandise overhauling, and investment in developing digital and omnichannel capabilities.
Investments in digital and omnichannel have become imperative for retailers in the face of changing consumer shopping preferences. Express is also making extensive efforts to grow its digital sales channel with a special emphasis on the mobile app.
Article continues below advertisement
The company is overhauling its merchandise assortment and using target ads to increase its customer reach. In fiscal 3Q17, e-commerce sales were up 23%. The company expects e-commerce sales to reach $500 million in fiscal 2017. Moreover, in the next five years, the company expects e-commerce to represent 40% of its sales compared with 24% in fiscal 3Q17.
Omnichannel investments
Apart from developing its digital sales platform, Express is improving facilities like "ship from store" and "purchase online, pick up in store." In fiscal 3Q17, the company launched its "purchase online, pick up from store" facility in three of its stores and is now planning on extending this service to more stores this year. The company added that the success of the omnichannel strategy is based on having the "right store locations and brand exposure."
Express is also focusing on its "ship from store" facility, which was added to 150 locations in fiscal 3Q17. At the fiscal 3Q17 earnings conference call, the company added that these facilities are not only helping to boost sales numbers but are helpful in managing inventory. A sound inventory position can considerably reduce the need for markdowns. Also, the "purchase online, pick up from store" facility has the potential to drive traffic at stores.
In the next article, we'll discuss the company's store portfolio rationalization efforts.