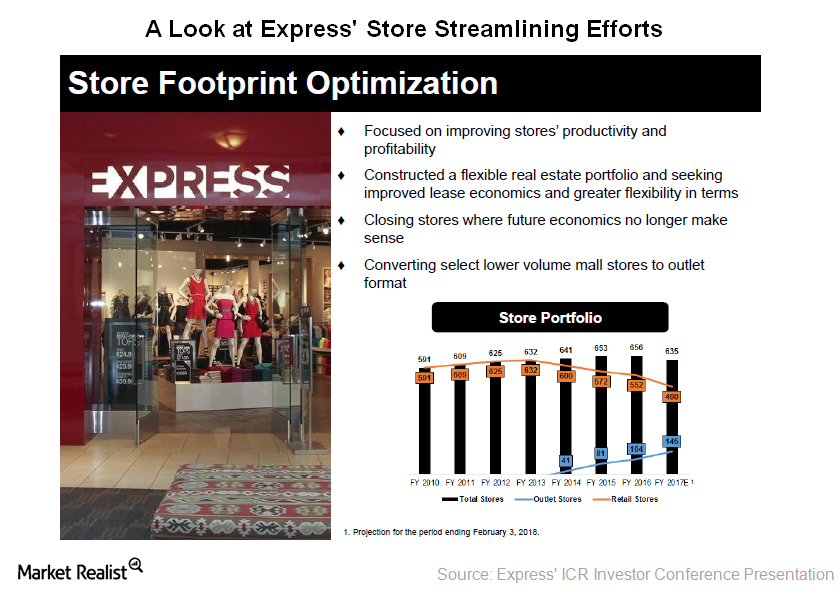 Why Is Express Streamlining Its Store Portfolio?
By Victoria Dean

Jan. 18 2018, Updated 9:02 a.m. ET
Streamlining store base to boost overall productivity
Express (EXPR) has adopted a store rationalization strategy to boost efficiency as well as margins across its entire store base. The company said it was working on creating a flexible real estate portfolio and looking to have better lease agreements. The company is closing unprofitable locations across the US and moving the business to either nearby stores or its online channel.
Article continues below advertisement
Focus on outlet business
Express has been considerably trimming the number of its retail store locations and is focusing on its outlet business. Since 2014, the company has adopted the practice of converting certain mall locations with less volume to factory outlet stores.
Express had 499 stores and another 141 outlet stores as of October 28, 2017. The company had projected 61 retail store closures for fiscal 2017, out of which 24 stores will be converted to outlets. Express plans to open another 17 retail outlets for 2017. In fiscal 3Q17, the company's store sales represented nearly 75% of overall sales.
At the ICR conference held on January 9, 2017, the company said it completed the conversion of 24 stores to outlets. The company added that the conversion was aiding overall profits and store productivity. As per the company's projection, as of February 3, 2018, it will have 145 outlets, representing 23% of the total store base. The retail locations are projected to be around 490 as of February 3, 2018. In April 2017, the company also decided to close its unprofitable Canadian operations, which consisted of 17 stores.
Store network of peers
Buckle (BKE) operated 461 stores in the US as of October 28, 2017, while Foot Locker (FL) operated 927 stores across the US. As of October 28, 2017, American Eagle Outfitters (AEO) operated 664 American Eagle stores and 150 American Eagle factory stores. It had another 92 Aeries stores across the US.