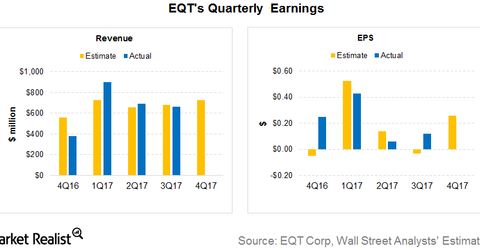 Expectations for EQT's Upcoming Earnings
By Keisha Bandz

Updated
EQT Corporation's 4Q17 and fiscal 2017 revenue estimates
EQT Corporation (EQT) plans to release its 4Q17 and fiscal 2017 earnings on February 15. Its 4Q17 revenue estimates come in at ~$728 million, while for the full year, EQT is expected to report revenue of $3.13 billion. In the comparable periods a year ago, revenues were $379 million and $1.61 billion, respectively.
As you can see, revenues are expected to rise in both 4Q17 and fiscal 2017, and significantly so, on a year-over-year basis.
Article continues below advertisement
The expectation of a jump in revenue is likely the result of increased production expectations. Pro forma for the Rice Energy (RICE) acquisition, EQT's combined company sales volume guidance for fiscal 2017 is 1.3 Tcfe (trillion cubic feet equivalent). In comparison, production in fiscal 2016 was 759 Bcfe (billion cubic feet equivalent)
While the company hasn't provided guidance for 4Q17 production, the Rice acquisition is, again, a likely explanation for the high revenue growth expectations, based on higher production growth expectations.
We'll discuss EQT's production expectations in the next part of this series.
EQT's 4Q17 and fiscal 2017 earnings estimates
EQT's 4Q17 earnings per share estimate is ~$0.26. In 4Q16, the company posted earnings of $0.25 per share. The fiscal 2017 earnings per share estimate is ~$0.82, compared to earnings of -$0.33 per share in fiscal 2016.
The increase in earnings in 4Q17 and fiscal 2017 is again because of improved revenue expectations, as we saw above.
EQT's peers Cabot Oil and Gas (COG), Noble Energy (NBL), and Antero Resources (AR) are expected to report fiscal 2017 earnings per share of $0.51, $0.01, and $0.28, respectively, compared to their corresponding 4Q16 earnings of -$0.21, -$0.58, and $0.71.