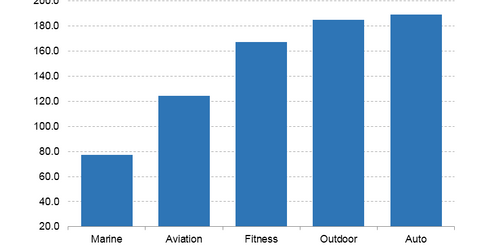 Examining Garmin's Product Launches
By Ruchi Gupta

Updated
Increase in R&D spending accompanied by more new products
In 3Q17, Garmin (GRMN) demonstrated that its swelling R&D (research and development) budget was not in vain. It was able to launch several new products during the quarter.
The company's R&D spending rose 11% YoY (year-over-year) in the quarter, and this rise was accompanied by the launch of several new products that Garmin hoped would stimulate faster growth of its top line in the coming quarters. Garmin's top line grew 3.0% YoY in 3Q17, faster than its growth of 1.0% YoY in the previous quarter but slower than its growth of 6.0% YoY in the previous year's quarter.
Article continues below advertisement
Vivosport enters India
Garmin launched more than three new wearable products in its fitness division during 3Q17. These products included the Vivoactive 3, Vivomove HR, and Vivosport.
Costing roughly $200 in the United States (SPY), Vivosport is a smart activity tracker with built-in heart rate and GPS readers. Garmin has introduced Vivosport in India (INDA), one of the highly sought-after emerging digital markets. Amazon (AMZN), Alibaba (BABA), Microsoft (MSFT), and Alphabet (GOOGL) are among the large multinationals in the technology sector that are showing a strong appetite for India's digital market.
Amazon, for example, will have spent more than $5.0 billion by the time it finishes building its business in India. Alibaba, on its part, recently announced that it was adding India to its cloud regions with a local cloud data center in the country.
Therefore, the launch of Vivosport in India can be viewed as a strategic move by Garmin.
New products expected to boost revenue growth
Away from the fitness division, Garmin also launched new products or updated its existing line of products in other divisions, such as the outdoor, aviation, and auto divisions. In the auto division, for instance, the company introduced Garmin Speak, a device based on Amazon's Alexa technology that enables drivers to receive news briefings and other updates simply by issuing voice instructions.
It will be interesting to see how these newly launched products affect Garmin's revenue growth going forward.