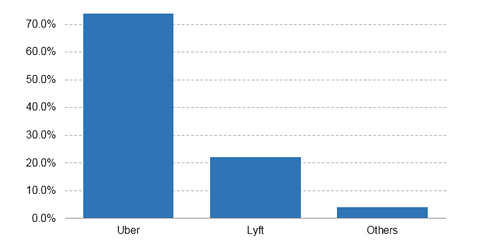 What Exactly Does Alphabet's Waymo Ride-Hailing Service Entail?
By Neha Gupta

Updated
Waymo entering the ride-hailing market
Alphabet's (GOOGL) Waymo is in the process of launching a ride-hailing service to take on Uber and Lyft. Waymo plans to deploy self-driving minivans for its ride-hailing service. Ford Motor Company (F) and General Motors (GM) have also signaled their intent to enter the ride-hailing market with driverless taxis.
Waymo's CEO, John Krafcik, disclosed his plans for a driverless ride-hailing service when he spoke at the Web Summit technology conference in Lisbon, Portugal (EFA), in November 2017.
Article continues below advertisement
Missing details in Waymo's taxi service plan
However, Krafcika's address about Waymo's upcoming ride-hailing service left a few questions unanswered. For example, when exactly Waymo's driverless taxi service will launch remains unknown. Krafcika, a former Ford executive, said only that Waymo's self-driving taxi service would launch within the next few months.
The other missing detail about Waymo's upcoming driverless taxi service is how the company will charge for the service considering that it's set to face strong opposition from Uber and Lyft in the US (SPY) ride-hailing market. According to analytics company Second Measure, Uber controls more than 70% of the US ride-hailing market. Lyft controls 22% of the market. Waymo might want to use a competitive pricing strategy to help it to penetrate the market quickly.
Financial burden of the taxi service
Waymo is part of Alphabet's loss-making segment called Other Bets. Investors might be interested in finding out if Waymo's upcoming ride-hailing service could lead to more losses in this segment, considering that the ride-hailing service is expected to be offered free of charge at first.
As Alphabet gears up to report its 4Q17 results on February 1, investors are hoping to hear more details and clarity on Waymo's upcoming ride-hailing service.