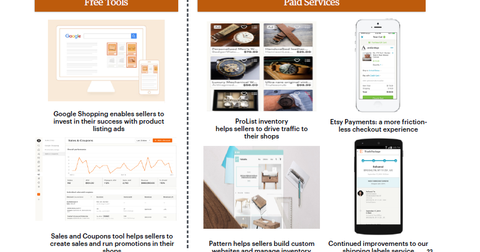 Etsy Working to Improve the Seller Community's Experience
By Victoria Dean

Updated
Seller community
Sellers are as crucial as buyers and to help them sell more goods on its platform, Etsy (ETSY) has been developing new tools and services. During its 3Q17 earnings conference, its CEO, Josh Silverman, announced that the company unveiled a social media tool that allows sellers to list their goods on Twitter, Facebook, Instagram, and Pinterest.
With every new keyword search, promoted listings will appear on the Similar Items section of the landing page. Silverman noted that this enhancement is intended to give sellers more ad space on non-search high-traffic pages.
As a way to boost sales during the most recent holiday season, Etsy (ETSY) launched a tool that helps sellers offer free shipping for many of their products. The tool also helps buyers find these goods.
Sellers were given a tool that helps them offer services like gift wrapping and customized cards. It also launched a holiday gift finder tool.
Over the Labor Day weekend, sellers were given a tool that helped them manage their sales and discounts, leading to its first sitewide sale. It's crucial for Etsy to improve its marketing capabilities to give its sellers a competitive advantage over other online retailers.
Article continues below advertisement
A look at Etsy's other seller services
Etsy has a base of 31.7 million active sellers, with women representing the majority of these sellers. To help sellers manage their sales, Etsy offers services like direct checkout, pattern, and promoted listings. Through direct checkout, sellers can accept payments via debit and credit cards, as well as mobile wallets such as PayPal and Apple Pay. These payments are converted into each seller's local currency.
Through promoted listings, Etsy allows sellers to promote their product ads in buyers' search results, charging a fee based on the pay-per-click model.
Similar to Promoted listings, Google Shopping Tool allows sellers to promote their product ads in Google's search results.