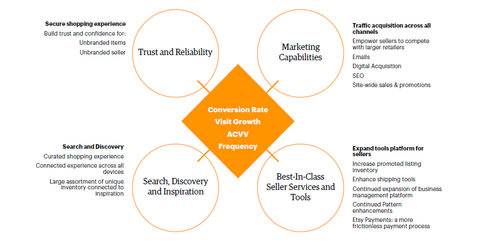 Etsy Enhancing Its Buyer Experience to Augment Sales
By Victoria Dean

Updated
Buyer in focus
Online retailer Etsy (ETSY) is known for its crafts and artisan offerings. To drive more customers and boost sales, the company has undertaken a series of initiatives.
The company has been improving the trust and reliability factor to enhance customers' shopping experiences. This is vital for the company, as it mostly sells unbranded products.
During its fiscal 3Q17 earnings conference call, Etsy said that it had implemented a structured return policy. For online retailers, a proper return policy is important to attract and retain customers.
To help customers with easy online search and navigation, Etsy introduced CSR (content-specific search ranking) in September 2017. CSR is intended to help buyers by furnishing results in real time using query and usual level information.
During its 3Q17 conference call, Etsy's CEO, Josh Silverman, noted that CSR and other search features launched since May could add $100.0 million to its annualized gross merchandise sales.
Article continues below advertisement
Badges
Etsy introduced a best-seller badge for its popular offerings. It also unveiled a scarcity badge to alert buyers about offerings that are fast depleting.
To provide buyers with a seamless shopping experience, the company set up a connected experience for its desktop, mobile web, and mobile app channels. Moreover, buyers can discuss their purchases with sellers through the Conversations tool.
Promotions
To retain customers, Etsy launched a three-day-long email promotional campaign in September 2017 through which buyers received gift cards after a qualifying purchase. The company is also migrating its email service to a new CRM system.
In the next article, we'll explore Etsy's efforts to improve the seller community's experience.