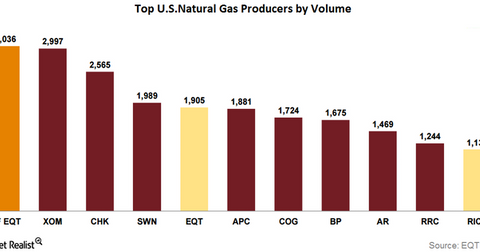 EQT's Production Expectations and Where the Marcellus Fits In
By Keisha Bandz

Updated
EQT's production guidance for 2017 and 2018
As we saw in the previous part of this series, EQT Corporation's (EQT) pro forma production in 2017 following the EQT (EQT)–Rice Energy transaction is expected to be 1.3 Tcfe (trillion cubic feet equivalent).
Per EQT, the combined EQT-RICE will result in the biggest natural gas producer in the United States, ahead of ExxonMobil (XOM), Chesapeake Energy (CHK), and Southwestern Energy (SWN).
EQT's pro forma natural gas volumes are expected to total around 3 billion cubic feet per day.
In 2018, the company expects its production to average 1.52 Tcfe–1.56 Tcfe. EQT's key focus in 2018 would be developing its Marcellus position.
Article continues below advertisement
The changing face of EQT's Marcellus footprint
Following the close of the RICE acquisition, EQT's Marcellus acreage would increase from 813,000 to 1,000,000, of which 680,000 would be its core acreage with 2,500 undeveloped locations.
Plus, average lateral length in the Marcellus Shale is expected to increase from 8,000 feet to 12,000 feet.
EQT also expects to see improved returns in the Marcellus from the Rice acquisition. Its after-tax IRR (internal rate of return) is expected to increase from 47% in an eight-well pad, 8,000-feet lateral, to 59% in a 12-well pad, 12,000-feet lateral, at $2.50 NYMEX natural gas prices. At $2.00 and $3.00 natural gas prices, these returns are expected to increase to 24% and 114% from the previous 19% and 91%, respectively.
EQT Corporation (EQT) noted that most of the acquired acreage from Rice Energy is contiguous with its existing acreage position. EQT's acreage includes 1,000,000 net acres in the Marcellus and 65,000 net acres in the Utica.