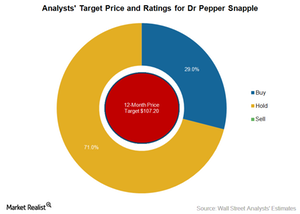 Analysts' Reaction to the Dr Pepper Snapple–Keurig Merger
Reaction to merger news
Previously in this series, we discussed the merger of Dr Pepper Snapple (DPS) with Keurig Green Mountain and expected synergies. As mentioned previously, following the news of the proposed merger, Dr Pepper Snapple stock rose 22.4% on January 29.
On January 30, Dr Pepper Snapple stock was downgraded by Deutsche Bank to "hold" from "buy." However, Deutsche Bank raised its price target to $123 from $114. Wells Fargo cut its rating for Dr Pepper Snapple to "market perform" from "outperform." It raised its price target to $124 from $112. Although the proposed merger is expected to create a stronger entity in terms of revenue generation and other synergies, execution risks remain a matter of concern.
Article continues below advertisement
Analysts' ratings
Of the 17 analysts covering Dr Pepper Snapple, five (29%) have recommended "buy," and 12 have recommended "hold." The 12-month average price target for Dr Pepper Snapple is $107.20, which reflects an ~8.0% downside potential based on its closing price of $117.07 on January 29.
In addition to the aforementioned revisions to Dr Pepper Snapple stock's price target by Wells Fargo and Deutsche Bank, many other analysts are expected to revise their targets in reaction to the news of the proposed merger. While Dr Pepper Snapple stock rose 7.0% in 2017, Coca-Cola (KO) and PepsiCo (PEP) stock rose 10.7% and 14.6%, respectively. These major soda giants lagged behind the S&P 500, which rose 19.4% in 2017.
Weak soda volumes have impacted the performance of Dr Pepper Snapple and its nonalcoholic beverage peers. In 3Q17, Dr Pepper Snapple's carbonated soft drink volumes fell 1.0%, while its non-carbonated beverage volumes rose 6.0%.
Dr Pepper Snapple has been expanding its presence in the non-carbonated beverage space through innovation and strategic acquisitions, such as its 2017 acquisition of Bai Brands, a maker of enhanced water, carbonated flavored water, coconut water, and premium ready-to-drink teas. The proposed merger of Dr Pepper Snapple with Keurig Green Mountain could help the combined company capture further growth opportunities in coffee and other beverage categories.