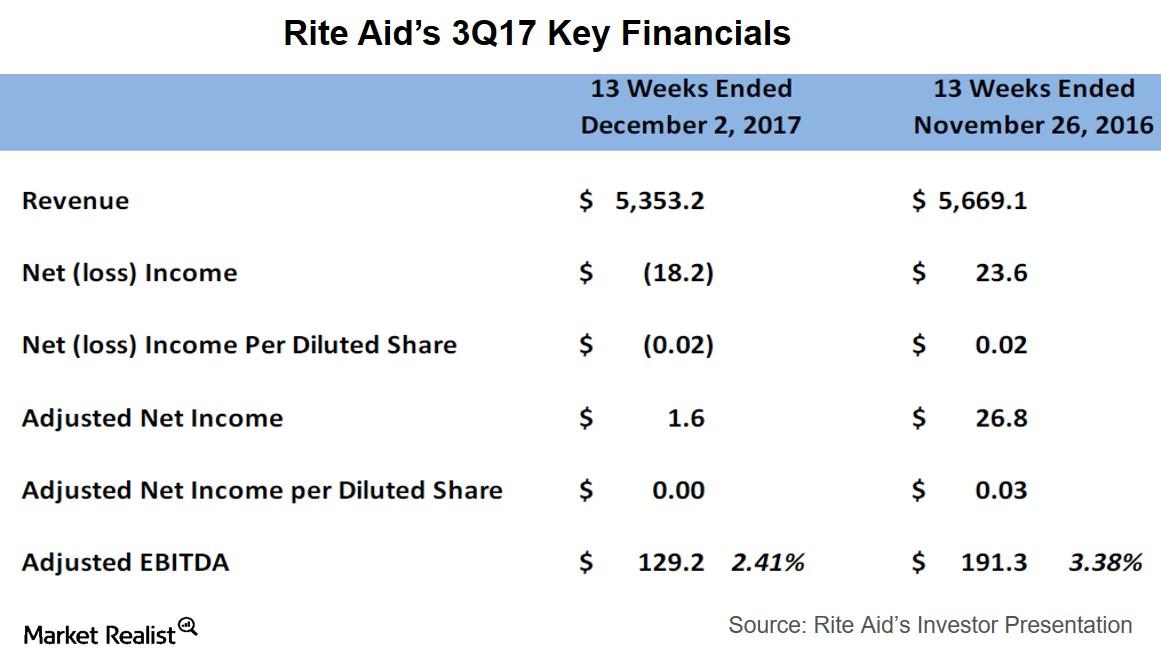 Depressed Retail Pharmacy Gross Profit Impacts Rite Aid's 3Q17
Discussing Rite Aid's 3Q17 earnings
Rite Aid Corporation (RAD) reported third-quarter results on January 3. The company's adjusted net earnings from continuing operations stood at $1.6 million, or $0.00 per diluted share, compared to $26.8 million or $0.03 per diluted share during the same period last year. It did better than Wall Street's expectations of a two-cent loss during the quarter.
Walgreens Boots Alliance (WBA), which reported quarterly results a day after Rite Aid, also beat Wall Street expectations. The company posted a 22.4% increase in adjusted earnings to $1.31 per diluted share.
Article continues below advertisement
What drove down Rite Aid's earnings in 3Q17?
Rite Aid's 3Q17 earnings were hurt by a decline in its adjusted EBITDA (earnings before interest, taxes, depreciation, and amortization) during the quarter.
Adjusted EBITDA from continuing operations declined 32.5% YoY (year-over-year) to $129 million. More than 80% of this fall was due to lower profit at the Retail Pharmacy Segment, which in turn was impacted by a decline in pharmacy gross profit and lower net favorable legal settlements. Gross profit of the segment was negatively affected by a continuous decline in reimbursement rates.
Adjusted EBITDA margin for the company stood at 2.4% of sales in 3Q17, down 100 basis points as compared to the same quarter last year.
Investors looking for exposure to Rite Aid through ETFs can choose to invest in First Trust Consumer Staples AlphaDEX Fund (FXG), which invests 1.9% of its portfolio in the company.
Move on to the next section to read about Rite Aid's stock price performance and Wall Street recommendations.