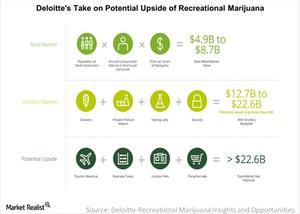 What a Country Could Gain from Legalizing Recreational Marijuana
By Adam Jones

Updated
Why legalize cannabis?
In the previous part of this series, we saw how the legalization of recreational marijuana could create related business opportunities. In this part, we'll discuss the potential upside of recreational marijuana for a country like Canada.
Article continues below advertisement
Potential upside
According to Deloitte, recreational marijuana alone could be a $5 billion industry initially, and it could go as high as $8.7 billion. According to Deloitte, this level is at par with the country's spirit market. The ancillaries business would bump the industry's potential to $23 billion. This number could go even higher if taxes and licensing revenue are considered.
Of course, this kind of opportunity underlies the motivation to legalize marijuana in the country. But there are several other benefits cited by proponents of legalizing marijuana (also called cannabis). Legalizing cannabis is expected to lead to lower criminal activity and reduce the burden on the criminal justice system. It could also help restrict minors from possessing the substance, protect public health, and allow access to quality-controlled cannabis.
While these all sound like compelling reasons to legalize marijuana and let companies (XLP) such as AbbVie (ABBV), Insys Therapeutics (INSY), and Corbus Pharmaceuticals (CRBP) foray into recreational marijuana, we must also consider the other side of the coin. Read on to the final part of this series.