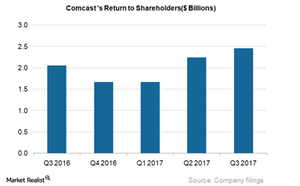 Can Comcast Maintain a Strong Capital Return Policy in 2017?
By Aaron Hemsworth

Updated
Share repurchase guidance
Comcast (CMCSA) continues to improve its shareholder returns via strong share buybacks and regular dividend payments. At the end of September 2017, the company had paid back more than $2.4 billion worth of capital to its shareholders through buybacks and dividend payments compared to the $2 billion it paid back during the same period in 2016.
The company expects to complete 2017 with a total share buyback of $5 billion, almost flat compared to the previous year. The company is set to return nearly $8 billion to its shareholders through a combination of share buybacks and dividend payments in 2017 compared to $6.9 billion in 2016.
In the graph above, we can see that over the last five quarters, Comcast has returned capital at an average of $2 billion per quarter through dividend payments and share repurchases.
Article continues below advertisement
Strong free cash flow drives capital return policy
In 3Q17, Comcast paid $743 million in dividends and bought back shares worth $1.7 billion. At the end of the first nine months of 2017, the company paid $2.1 billion in dividends, a rise of 10.5% year-over-year. The company expects to distribute $2.9 billion in dividends in 2017.
Comcast's dividend yield stood at 1.5% compared to Disney's (DIS) 1.5%, CBS's (CBS) 1.3%, and News Corporation's (NWSA) 1.2%.
The company exited 3Q17 with free cash flow of $7.4 billion. In the last five quarters, it's maintained an average free cash flow of nearly $2.3 billion in each quarter. Such strong free cash flow may allow the company to move forward with its ongoing capital return policy.