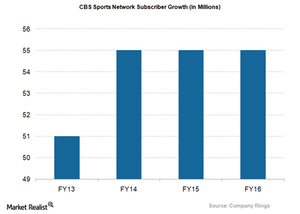 How CBS Sports Subscriber Growth Looked Last Year
By Aaron Hemsworth

Jan. 15 2018, Updated 7:30 a.m. ET
CBS Sports network subscriber trend
CBS's (CBS) Sports, which belongs to CBS's Cable Network segment, has seen slow subscriber growth due to stiff competition against sport network operators like FOX Sports Networks (FOXA), NBC Sports (CMCSA), and ESPN (DIS). As of September 30, 2017, CBS Sports had 52 million subscribers, compared with 55 million in at the end of 3Q16.
In the graph above, you can see the subscriber trends of the CBS Sports network over the past four years. During that period, subscriber growth remained almost flat at an annual average of 54 million.
Article continues below advertisement
Steps implemented by CBS Sports
CBS's sports channel, which mainly targets college events with more than 600 live games, generates revenues through advertisements and channel subscription fees. In 3Q17, CBS's advertising revenues fell 4.8% YoY (year-over-year), while its subscription fees grew a whopping 52% YoY.
In order to remain competitive and drive subscriber growth against other sport channel partners, CBS Sports has signed many digital streaming agreements with platforms like Hulu's live television streaming service. CBS continues to invest heavily in various sporting rights as well.
CBS's programming and talent commitment is expected to come in at around $11.1 billion, of which nearly $8.1 billion will be assigned to support contracts. These amounts are expected to be utilized in and after 2022.
Such network expenses could accelerate CBS's programming expenses going forward. Its programming costs in 3Q17 grew nearly 50% YoY. In order to offset such expenses, it has had to raise its subscription fees at the time of renewal.