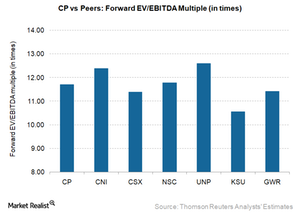 Does Canadian Pacific Command a Premium Valuation after 4Q17?
By Samuel Prince

Jan. 24 2018, Updated 9:01 a.m. ET
Canadian Pacific's valuation
Canadian Pacific Railway's (CP) vast exposure to Canadian and US grain differentiates itself from its Class I US railroad peers. The company also has a relatively low exposure to coal in volume terms, unlike its US peers.
Compared to all the major US railroad companies, Canadian Pacific's management appears much more confident in terms of the company's business growth outlook. Note that CP's employee base had risen YoY (year-over-year) at the end of 4Q17, unlike the employee bases of other Class I railroad companies.
Article continues below advertisement
Forward EV-to-EBITDA multiple
The forward EV-to-EBITDA (enterprise value to earnings before interest, tax, depreciation, and amortization) multiple denotes how a rail carrier is valued for each dollar of EBITDA it's expected to earn. The multiple is capital structure neutral and sharply focuses on the railroad's margins, margin growth, and ability to grow its core earnings.
Note that the new US tax code will most likely increase the bottom lines of major railroad companies. For this reason, it's important for these companies to focus on their core operations and operating efficiencies. A railroad with higher margin and forward margin growth will have a higher forward EV-to-EBITDA multiple.
Union Pacific (UNP) has the highest forward EV-to-EBITDA multiple among its peers at 12.6x. The company had an EBITDA margin of 46.7% in 2017, far higher than those of other US railroad companies. In addition, UNP's 2018 EBITDA is expected to rise 8%.
Canadian National Railway (CNI) followed UNP with the second-highest ratio of 12.4x. The company's 2017 EBITDA margin of 54.3% is expected to rise 5.7% in 2018. Canadian Pacific Railway (CP) has the third-highest multiple of 11.7x among the major US railroad companies under discussion. CP's 2017 EBITDA margin of 52.7% is poised to expand 3.2% in 2018.
Eastern US railroad companies Norfolk Southern (NSC) and CSX (CSX) have forward EV-to-EBITDA multiples of 11.8x and 11.4x, respectively. The same multiple stands at 11.4x and 10.6x, respectively, for the largest US short-line operator, Genesee & Wyoming (GWR), and smallest Class I railroad company, Kansas City Southern (KSU).
ETF investment
Transportation stocks should pick up in the coming quarters due to increased capital expenditure, higher US industrial production, and US tax rate benefits.
Investors interested in exposure to transportation stocks can consider investing in the SPDR S&P Transportation ETF (XTN). This ETF holds 12.4% and 24.6% in US railroad and trucking companies, respectively.