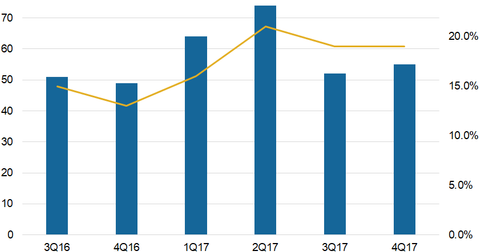 BlackRock's iShares Dominates ETFs, Index Funds Market
By Robert Karr

Updated
Low cost, technology
BlackRock (BLK) has added new flows above $50.0 billion in its iShares division during the past few quarters. iShares offers exchange-traded funds (or ETFs), index funds for investments in equities, and debt across the Americas, Europe, and Asia with a major concentration in the US. 
As investors seek convenient and cost-effective ways of deploying, exiting, and redeploying funds in equities and debt in the US and internationally, ETFs have emerged as a preferred investment option. Asset managers (XLF) such as the Vanguard Group and State Street Advisors (STT) have benefited from this run and have garnered assets for management at a faster pace.
Unless some major disruptive offering comes along that can target ease of investments, lower cost, and further options and customization, ETFs are expected to garner more assets in the coming years.
BlackRock's iShares raised $55.0 billion in 4Q17 compared with $49 billion in 4Q16. The division's total assets under management rose to $1.8 trillion on December 31, 2017. 
Managed assets under ETF offerings form 28.0% of BlackRock's total assets under management. iShares added $44.9 billion in its US and international equities and $8.7 billion in debt-related offerings and investment-grade corporate funds. 
Among banks and brokers, J.P. Morgan (JPM) and Charles Schwab (SCHW) are also focusing on increasing their market share in the ETF market.
Article continues below advertisement
Margins stabilize
BlackRock's iShares managed base fees of ~$1.1 billion in 4Q17 for the iShares division, reflecting higher fees on new funds and appreciation of holdings. Equity holdings rose $45.0 billion, reflecting a rise in broad markets and sectors. 
The Trump administration's tax reform initiatives and its push for domestic manufacturing can help corporates garner improved valuations in 1Q18 and beyond.