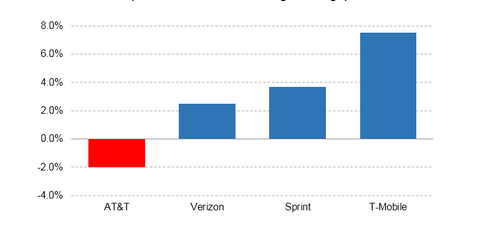 How AT&T Gained a Foothold in Its DOJ Lawsuit
By Ruchi Gupta

Oct. 29 2019, Updated 9:58 p.m. ET
The DOJ wanted a later trial date
In its legal proceedings with the US (SPY) Department of Justice (or DOJ) over the proposal to acquire Time Warner (TWX), AT&T (T) has already scored a small victory: a seemingly favorable start date for the trial of the antitrust case.
Soon after the DOJ sued to block the merger deal, AT&T responded by amending its agreement with Time Warner to extend the deadline to April 22, 2018. However, another challenge cropped up. The DOJ wanted the trial of its antitrust lawsuit against AT&T to begin on May 7, 2018, outside the merger parties' deal deadline. AT&T favored a trial date that would start on February 20, 2018.
Article continues below advertisement
Trial date set closer to AT&T's preference
Toward the end of December 2017, Judge Richard Leon, who is presiding over the case, set March 19, 2018, as the start date for the trial. Although this was not the date that AT&T preferred, March 19 is closer to the February 20 date it favored than the May 7 start date that the DOJ favored.
With respect to the dispute with the DOJ over the start date for the trial, AT&T seems to have scored a slightly favorable outcome. AT&T and Time Warner recently amended their deal agreement again to move the deadline to June 21, 2018. This move occurred after Leon suggested that he would not have reached a decision by the April 22 date that the companies had set as the deal's deadline.
Telcos showing appetite for media assets
AT&T and Time Warner have been willing to extend the life of their agreement to ensure that time alone doesn't bar them from merging. AT&T looked into Time Warner's portfolio of media assets and saw a company that could help it beat slow growth in its core telecom industry. This event could explain why the company is fighting hard to save the deal.
AT&T's telecom peers Verizon (VZ), T-Mobile (TMUS), and Sprint (S) have also either been acquiring strategic media assets or partnering with media companies to bolster their competitiveness.