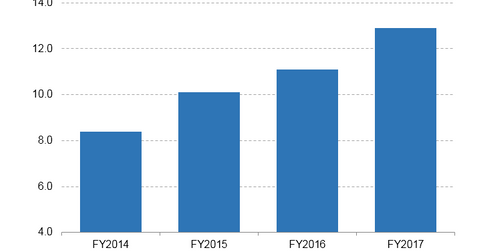 Why Apple Is Steeply Discounting iPhone Batteries
By Ruchi Gupta

Updated
Apple offering $50 discount on iPhone replacement battery
After Apple (AAPL) owned up to slowing older iPhones, although not maliciously, the company didn't just issue an apology. It also made a move to make things right with customers by significantly reducing the price of a replacement battery for the iPhone.
The company said that it was cutting iPhone replacement batteries to $29 from $79, a $50 discount. Apple customers who own an iPhone 6 or later model whose battery needs to be replaced can take advantage of the steep discount to re-energize their devices.
The discount is not forever
But the discount is not forever. Apple said that the opportunity to replace an iPhone battery at the cost of just $29 will be "available worldwide through December 2018," so the company is expected to bring back the usual replacement battery prices after the discount window closes at the end of the year.
Apple reports accessories sales under its Other Products category. In fiscal 2017, Apple's Other Products sales were $12.9 billion, an increase of 16% over the previous year. Other Products sales jumped 11% in 2016. It's unclear how the steep discount on the iPhone replacement battery might impact Apple's Other Products sales in 2018, so this is one area that investors would like to monitor.
Regaining customer trust
Apple tied its battery discount to addressing customers' concerns and regaining the "trust of anyone who may have doubted Apple's intentions," the company said in a statement. In light of escalating competition with Samsung (SSNLF), Alphabet's (GOOGL) Google, Microsoft (MSFT), and Chinese brands (MCHI) such as Huawei, Apple hopes this gesture will keep its customers from defecting. Samsung widened its smartphone market share gap with Apple in 3Q17, according to IDC data.