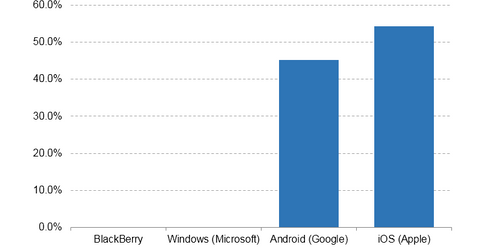 Why Apple Slowed Down Aging iPhones
By Ruchi Gupta

Updated
Apple says it didn't act maliciously
Apple (AAPL) admitted and apologized to its customers for making software changes that ended up slowing their iPhones, especially the older devices. But the company also sought to set the record straight, saying that it hadn't acted maliciously in making the software changes that reduced the performance of older iPhones.
"We have never—and would never —do anything to intentionally shorten the life of any Apple product, or degrade the user experience to drive customer upgrades. Our goal has always been to create products that our customers love, and making iPhones last as long as possible is an important part of that," the company said in a statement posted on its website.
Article continues below advertisement
Prolonging iPhone lifespan
According to Apple, the software tweaks that resulted in slow iPhone speeds were designed to prolong the life of older devices, so it wasn't a scandal according to the company. Aging iPhones can shut down unexpectedly as the battery wears out, so Apple issued the software tweak to tackle the unexpected shutdown problem.
Forced upgrade claims
Apple's admission and apology came after an analysis report cited by the Guardian suggested that the company appeared to intentionally slow older iPhones as part of a strategy to get customers to upgrade to more expensive devices.
According to analytics firm StatCounter, Apple's iOS closed 2017 with 54.3% of the mobile operating system market share in the US (SPY), beating Alphabet's (GOOGL) Android at 45.1%, Microsoft's (MSFT) Windows at 0.21%, and BlackBerry's (BB) BlackBerry OS at 0.05%. iPhones are based on the iOS.