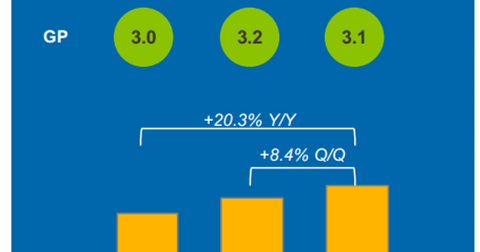 ALGN Terminates 3Shape TRIOS's Invisalign Interoperability Contract
By Sarah Collins

Updated
Align Technology terminates 3Shape TRIOS contract
On December 20, 2017, Align Technology announced the termination of its Invisalign interoperability contract with 3Shape. 3Shape is a privately held company based in Denmark that manufactures 3D scanners and CAD/CAM[1. computer-aided design/computer-aided manufacturing] solutions for the dental industry.
Effective January 31, 2018, Align Technology will not accept digital scans from 3Shape's TRIOS scanners in the US for new treatment and retention cases of Invisalign aligners. North America is one of the highest growth geographies for Align Technology.
On the day, ALGN stock declined ~0.60%. The Vanguard S&P 500 ETF (VOO) witnessed a price drop of ~0.08% on the same day. ALGN accounts for ~0.07% of VOO's total holdings.
Article continues below advertisement
The reason for contract termination
Align Technology stated that the interoperability contract termination is due to the infringing conduct of 3Shape and the litigation against the company by Align Technology. The litigation was filed on November 14, 2017, by Align Technology, which consists of six patent infringement lawsuits against 3Shape. The company claims infringement of 26 of Align Technology's patents by 3Shape's TRIOS scanners.
Align Technology stated that it will continue to accept digital scans from TRIOS scanners outside the United States for Invisalign treatments, as only US patents concern current lawsuits.
Align Technology's qualified scanner list for digital scans for Invisalign workflow include its iTero scanner, 3M (MMM) True Definition scanner, and the Dentsply Sirona (XRAY) Cerec Omnicam. Henry Schein (HSIC) also offers the Planmeca PlanScan intraoral scanner to patients.
Management's comments
According to Roger E. George, Align Technology's vice president for legal affairs and general counsel, "We understand that the termination of interoperability and discontinuance of accepting digital scans for Invisalign treatment and/or retention cases through TRIOS scanners will inconvenience our customers and we wish it could have been avoided. We have reached out to affected practices and are working to help minimize any disruption.
"However, Align will not allow competitors to copy our products and their features or infringe our patents, nor can we continue to accept scans from US-based TRIOS scanners that infringe our patents. We will vigorously defend our intellectual property, whether it relates to clear aligners, dental scanners, or digital dentistry more broadly."
Correction: This article originally mentioned December 31 instead of January 31 as the effective date for Align Technology not accepting digital scans from 3Shape's TRIOS scanners in the US for new treatment and retention cases of Invisalign aligners.