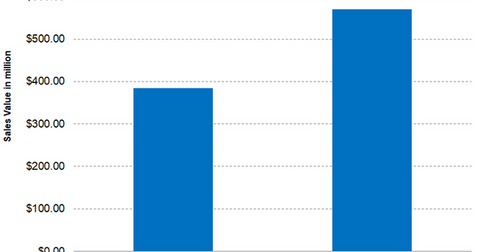 How Acquisitions and Divestitures Have Affected 3M
By Peter Neil

Updated
3M's divestitures in 2017
3M (MMM) continues to integrate its business portfolios to focus on better client deliveries via strategic divestitures and acquisitions. Below is a list of the divestitures 3M completed in 2017:
On January 3, 2017, MMM completed the sale of its Safety Prescription Eyewear business to Hoya. It had annual sales of approximately $45 million.
On May 1, 2017, MMM completed the sale of its Identity Management business to Gemalto for ~$850 million. This business had revenues of approximately $205 million annually.
MMM sold its Tolling and Automated License/Number Plate business to Neology. This business had annual sales of approximately $40 million.
MMM sold its Electronic Monitoring business for $200 million. The business had annual revenues of $95 million.
The aggregate revenue of 3M's completed divestitures in 2017 is approximately $385 million. The divestitures impacted 3M's revenue. However, the company's organic growth has offset the negative impact of the divestitures. In the first nine months, the Industrial segment saw an adverse impact of 0.6%, and the Safety & Graphics segment was negatively impacted by 3.0%.
Article continues below advertisement
3M's acquisition
To fill the divestiture gap, 3M acquired Scott Safety from Johnson Controls (JCI) for $2.0 billion. This business had annual revenues of $570 million in 2016. The acquisition was completed in October 2017. So, the net of revenues from divestitures and acquisitions is positive. The impact of the acquisition will be more visible beginning in 4Q17.
Investors can indirectly hold 3M by investing in the iShares MSCI USA ESG Select ETF (KLD), which has invested 5.3% of its portfolio in 3M. The other holdings of the fund include Microsoft (MSFT) and Apple (AAPL), which have weights of 5.4% and 4.1%, respectively, as of January 2, 2018.
In the next part, we'll look into analysts' recommendations on 3M.