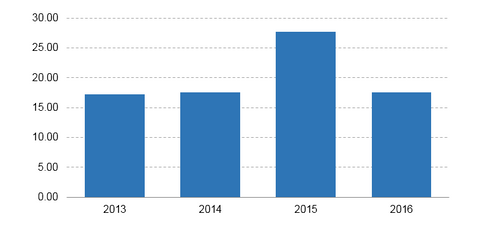 How Could 5G Deployments Impact Verizon's Capex?
By Ruchi Gupta

Updated
1.0 billion 5G subscribers
As Verizon (VZ) discusses the commercial deployment of its 5G wireless broadband service to residential customers in select US (SPY) cities starting in 2H18, it is important to examine how this move might impact its short-term spending and profitability.
Verizon said it was eyeing up to five markets in the US, including Sacramento, California's, for the commercial launch of its high-speed wireless Internet to household customers. According to Verizon's estimates, about 30 million households across the US are ready for 5G wireless Internet speed. Europe-based (EFA) telecom equipment vendor Ericsson (ERIC) estimates that 5G could attract 1.0 billion subscribers globally by 2023.
Article continues below advertisement
Capex expected to remain fairly stable
Would introducing 5G Internet to five US cities dramatically drive up Verizon's capital expenditure? Verizon appears to be keeping its expenses to the minimum even as it embarks on a significant network upgrade. The company said that it doesn't expect this year's planned 5G deployments to have a material impact on its capex for 2018.
Verizon expects its 2018 capex program to be consistent with the past several years, which suggests that the company doesn't expect the deployments to erode its profits in 2018.
Verizon guided 2017 capex in the range of $16.8 billion–$17.5 billion. Its 2016 capex was $17.6 billion, compared with $21.5 billion for AT&T (T) and $4.0 billion for Sprint (S).