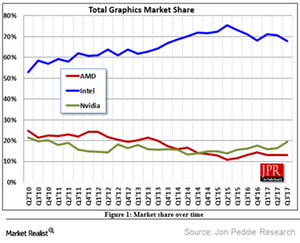 How Worried Is NVIDIA about Intel's Entry into the Discrete GPU Space?
By Puja Tayal

Updated
Intel's entry into the discrete GPU space
Intel (INTC) has explored all its possibilities to compete with NVIDIA's (NVDA) Tesla GPUs (graphics processing units), but Intel's efforts haven't yet achieved the desired success. In another aggressive move, Intel has announced a partnership with Advanced Micro Devices (AMD) to use the latter's discrete GPUs in its gaming notebooks.
Intel has also hired AMD GPU head Raja Koduri to run its new high-performance graphics group, which is targeted at visual- and edge-computing solutions.
This would not the first time Intel has tried to tap the discrete GPU market. It tried to build its own discrete GPU architecture, codenamed Larrabee, in 2006, but the effort failed. In 2011, it signed a graphics cross-licensing agreement with NVIDIA to settle a patent lawsuit.
Although Intel lacks discrete GPU technology, it is a leader in the GPU market with a 70% share due to its integrated graphics solutions inside its PC (personal computer) processors. Intel's graphics cards can only run casual games seamlessly, and they perform poorly in high-end gaming, ML (machine learning), and cryptocurrency mining.
Is Intel's entry in discrete GPU a threat to NVIDIA?
The above news threatens NVIDIA on three levels:
Intel's mobile PC platforms with integrated discrete GPU could harm sales of NVIDIA's laptop GPUs.
Intel could take a larger share of the discrete GPU market, which is currently dominated by NVIDIA.
The combination of Raja Koduri's GPU experience and Intel's research and development resources could help the company make competitive AI products in the data center and automotive markets.
NVIDIA's mobile gaming revenue 
NVIDIA offers standalone GPU solutions for PCs and laptops. Intel's integrated GPU solution would eliminate the need for a standalone GPU to run AAA games, thereby impacting NVIDIA's gaming revenues.
However, NVIDIA dismissed this threat on the grounds that it earns a major portion of gaming revenues from gaming enthusiasts. AMD's GPUs don't match NVIDIA's GPUs in gaming performance, and AMD's partnership with Intel would not likely deter gaming enthusiasts from buying NVIDIA's high-performance GPUs.