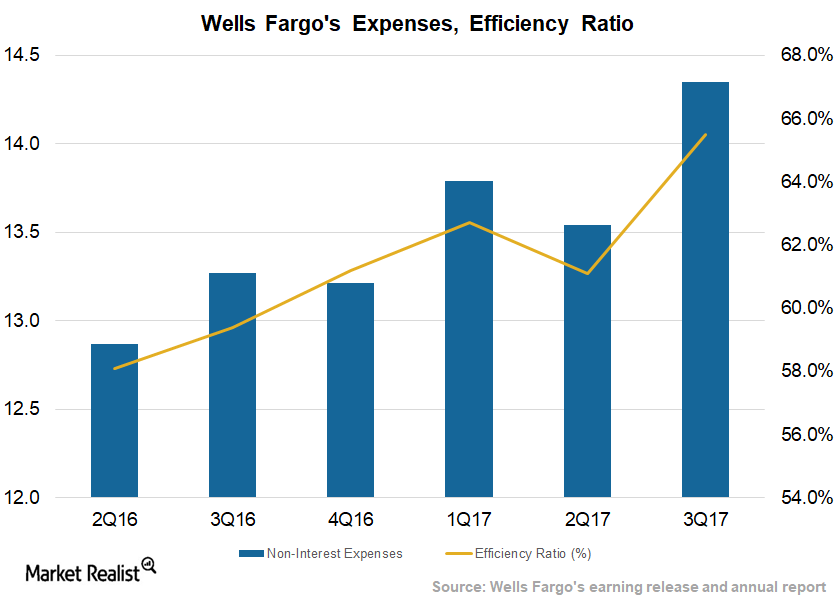 Why Wells Fargo's Spending Could Fall in 2018
By Robert Karr

Dec. 22 2017, Updated 7:30 a.m. ET
Spending could fall in 2018
Commercial banks and asset managers (IYF) are focusing on technology spending in order to boost their trading activity, improve efficiency, and reduce administrative costs. Bank of America (BAC), BlackRock (BLK), and Blackstone (BX) are some of the highest spenders in technology and are targeting higher operating efficiencies across their divisions.
Wells Fargo's (WFC) spending has increased due to compensation expenses and operating losses in 3Q17. The bank has put a limit on professional services and other administrative expenses. It posted 8% growth in expenses to $14.4 billion in 3Q17 on a YoY basis. On a sequential basis, expenses rose due to litigation and personnel spending. Wells Fargo's spending could fall in 2018 due to expected gains in margins and credit offtake and the stabilization of personnel costs.
Article continues below advertisement
Efficiency ratios could improve
Wells Fargo's efficiency ratio and non-interest spending divided by total income deteriorated to 65.5% in 3Q17 on litigation and spending. This ratio is relatively high when compared with peers like Citigroup (C) and J.P. Morgan (JPM). However, Wells Fargo can garner improved ratios in 2018 owing to expected growth and stable spending. The bank posted operating losses in 3Q17 due to $1 billion in litigation costs related to a mortgage investigation.
Wells Fargo's controversies surrounding fake bank account openings resulted in higher costs for the bank. The stabilization of its operations is imperative in order to command business and stable margins in the upcoming quarters.
Employee costs
In 3Q17, Wells Fargo posted employee costs of ~$8.2 billion, a rise of $38 million from 2Q17 on higher salaries and commissions due to its core banking performance. Trading and core banking will be key for improvement of efficiency and other ratios from the current levels.