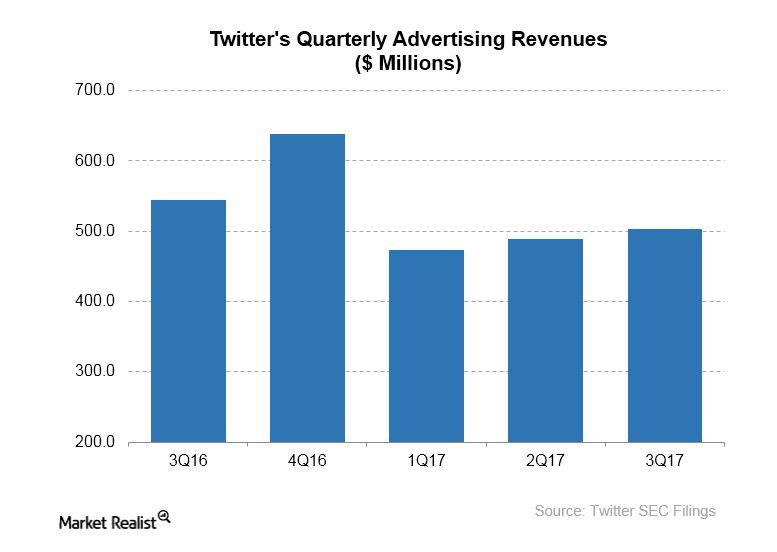 Twitter and Ad Revenues from RT and Sputnik
By Ruchi Gupta

Dec. 19 2017, Updated 7:31 a.m. ET
Election meddling
Large American Internet companies such as Alphabet's (GOOGL) Google and Twitter (TWTR) have announced retaliatory actions against certain Russian media outlets that they believe misused their services.
Google said it would deprioritize articles by Russia Today and Sputnik in Internet search results as part of a broader pushback against deliberate online misinformation. Russia Today operates television and digital news platforms, and Sputnik is primarily an online media source.
Russia Today (or RT) and Sputnik have been described by US (SPY) intelligence services as Russia's state-sponsored propaganda machines. Russia is accused of trying to meddle in the 2016 US presidential election.
Article continues below advertisement
Twitter bans RT commercials
While Google is deprioritizing articles by RT and Sputnik in online search results, Twitter said it would no longer allow RT and Sputnik to run commercials on its platform.
Twitter tied its decision to a conclusion by US intelligence agencies that RT and Sputnik attempted to interfere with the US election on behalf of the Russian government. RT and Sputnik have rejected the "propaganda machine" label.
Twitter donating revenues
Twitter (TWTR) is not stopping at blocking ads by RT and Sputnik from its platform. The company said it would donate revenues it earned from RT ads to fund external research work. Twitter estimates that it has earned about $1.9 million from RT global advertising since 2011 when the media outlet became an advertiser on its platform.
In 3Q17, Twitter's advertising revenues totaled $503.0 million. Snap (SNAP), Yelp (YELP), Facebook (FB), and Alphabet generated advertising revenues of $204.0 million, $199.6 million, $10.1 billion, and $24.1 billion, respectively, in the same quarter.