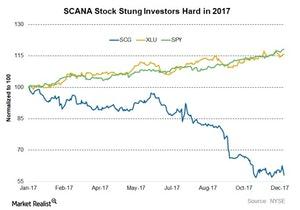 SCANA Offers VC Summer Site to Santee Cooper: Stock Falls 6%
By Vineet Kulkarni

Updated
SCANA, one of top losers in the S&P 500
The stock for SCANA (SCG), which is based in Cayce, South Carolina, is continuing to fall over its nuclear power plant issues. The stock fell more than 6% on December 11, 2017, while the markets and broader utilities (XLU) climbed higher.
On December 9, 2017, The State reported that SCANA, the parent company of South Carolina Electric & Gas, is offering the V.C. Summer nuclear plant site to Santee Cooper, the state-owned utility and SCANA's partner in the failed nuclear power plant project.
Article continues below advertisement
What's behind the offer?
According to The State, offering the power plant site to Santee Cooper would allow SCANA to claim a tax loss of approximately $2 billion. SCANA owns 55% of the project, while the rest is owned by Santee Cooper.
SCANA's principal subsidiary South Carolina Electric & Gas and Santee Cooper abandoned the construction of the V.C. Summer nuclear power plant after its principal contractor, Westinghouse Electric, went bankrupt in March 2017.
On December 8, 2017, FITSNews reported rumblings that NextEra Energy (NEE) and Dominion Energy (D) could be the likely suitors for the troubled SCANA. However, there was no official statement from any of these utilities. Interestingly, SCG stock closed 3.2% higher on December 8 after the news was released.
SCANA stock is one of the biggest losers among the S&P 500 (SPX-INDEX) (SPY) this year. It has fallen more than 43% year-to-date, while the broader utilities (XLU) have risen 16% in the same period.