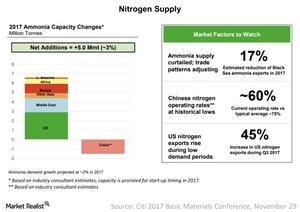 PotashCorp's Outlook on Nitrogen Supply, Demand, and Prices
By Adam Jones

Nov. 20 2020, Updated 12:26 p.m. ET
Current nitrogen environment
When we talk about nitrogen, China gets the most attention because of its large exports that have put downward pressure on prices in recent years. However, lately, Chinese producers have curtailed production, and exports have fallen 40% year-over-year, according to PotashCorp.
Article continues below advertisement
Nitrogen supply and demand
Unlike potash, the nitrogen fertilizer market is fragmented with several players. That's due to the abundant availability of input material such as natural gas or coal required for the production of nitrogen fertilizers.
In the above chart, we see that in 2017, ammonia capacity additions are expected to peak in 2017 with a net addition of 5 million metric tons, with most of the capacity additions taking place in the United States (XLB) and the Middle East. Ammonia capacity in China is expected to fall. That could translate to a net global capacity addition of 3% to 172 million metric tons in 2017.
Ammonia is the base nitrogen source, which is then upgraded to other nitrogen fertilizers such as urea, UAN (urea ammonium nitrate), and AN (ammonium nitrate). To learn more about nitrogen fertilizers, read our series Agricultural Fertilizer Industry: Your Comprehensive Overview.
So with the availability of abundant marginal capability, the growth in common nitrogen fertilizers such as urea gets easily captured. To put it in perspective, nitrogen demand is expected to rise 2%, which will be outpaced by a net nitrogen capacity addition of 3%.
Nitrogen price outlook
Higher cost and tighter government regulations were the primary reasons for lower production from China. PotashCorp CEO (chief executive officer) Jochen Tilk believes that this softness in production from China will sustain. Prices are expected to remain volatile as a result of new capacity additions until the second half of 2018, but PotashCorp
(POT)
expects new capacity to be absorbed and the nitrogen environment to improve beginning in the second half of 2018 and through 2019. That could mean uncertainty for the nitrogen segments of PotashCorp, Agrium
(AGU)
, CF Industries
(CF)
, and Terra Nitrogen
(TNH)
.