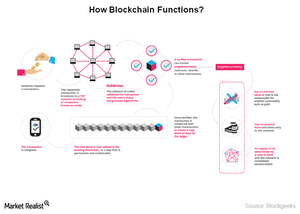 Overstock's Blockchain-Powered Mobile Wallet
By Victoria Dean

Dec. 22 2017, Updated 1:26 p.m. ET
Bitt's mobile money transfer app
Overstock (OSTK) CEO Patrick Byrne is one of the few business leaders to have eagerly embraced disruptive blockchain technology. Byrne has, time and again, stated that blockchain could prove to be a bigger revolution than the Internet.
Recently, Barbados-based Bitt launched a mobile money transfer app under the mMoney brand that is powered by blockchain. Overstock holds a 34.8% stake in Bitt through its subsidiary, Medici Ventures.
Blockchain is the underlying technology for bitcoin and other cryptocurrencies. It is based on distributed ledger technology, which tracks transactions in real time. Moreover, it is decentralized, and as the data is visible to the public, chances of fraudulent activities are reduced.
Article continues below advertisement
Given its extensive uses, the technology is finding applications in a wide range of sectors, from healthcare to financial. Tech behemoths Oracle (ORCL), IBM (IBM), and Microsoft (MSFT) are working on developing their blockchain platforms to help companies deploy this technology in their businesses simply and efficiently.
Utility of a blockchain mobile wallet
Bitt has been using blockchain to enable safe peer-to-peer transactions on the mobile platform. Bitt added that a blockchain-powered app, which eliminates the need of financial intermediaries and reduces transaction costs, could help stimulate economic growth for the 38% of the world's population that doesn't have a bank account.
The company also added that people need not worry about their money, as mMoney wallets are secure accounts supported by the company's funds held in "appropriate currencies." In the next part of this series, we'll focus on how Overstock is raising money through an initial coin offering to fund blockchain initiatives.