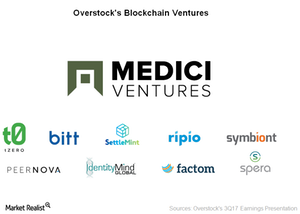 Overstock May Offload Retail Unit to Fund Blockchain Initiatives
By Victoria Dean

Dec. 22 2017, Updated 4:05 p.m. ET
Latest blockchain project
Overstock (OSTK) founder and CEO Patrick Byrne is a vociferous supporter of blockchain technology. Overstock, along with its blockchain subsidiary, Medici Ventures, has partnered with award-winning Peruvian economist Hernando de Soto Polar to set up a property registry blockchain to safeguard property rights of the poor in third-world countries.
In fact, in an interview with CNBC, Byrne has said that he is looking to sell or restructure the retail division to fund his latest blockchain project. The company is looking at selling to traditional retailers or taking the company private.
Article continues below advertisement
What is blockchain technology?
Blockchain works on distributed-ledger technology, which tracks cryptocurrency transactions in real time. It is decentralized, which means no single entity has control over it, making it highly transparent. Moreover, as the data is public, there is little chance of anyone interfering with transactions, thereby reducing chances of fraud.
Blockchain technology has found its uses in an array of sectors, from financial to retail to healthcare. Earlier this year, it was reported that retail giants Walmart (WMT), Kroger (KR), and Unilever were working with IBM (IBM) to create a blockchain that will increase the efficiency of the food supply chain.
Overstock's blockchain focus is a smart move
According to MarketsandMarkets, the market for blockchain is expected to grow at a CAGR (compound annual growth rate) of 79.6% to $7.7 billion between 2017 and 2022.
Overstock is looking to gain from this opportunity through ventures. The company estimates that, by establishing the abovementioned property rights blockchain, it can bring locked real assets of $14 trillion into the global economy. By doing so, billions of poor people could benefit.