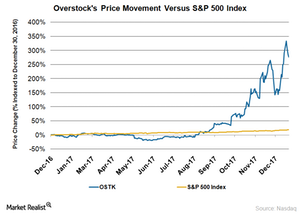 Overstock Eyeing 24% Stake in StockCross Financial
By Victoria Dean

Dec. 27 2017, Updated 7:31 a.m. ET
Strategic acquisition
e-Commerce retailer Overstockcom (OSTK) is looking to purchase a 24% stake in StockCross Financial Services through its subsidiary tZERO for $12 million. Both parties have executed letters of intent.
StockCross is a FINRA (Financial Industry Regulatory Authority) affiliated financial services company that also acts as a self-clearing firm for fixed income securities, customer investment options, and more. Overstock's CEO (chief executive officer) Patrick Byrne said he wants to rewire Wall Street and wants cryptocurrency capital markets to gain mainstream adoption. He expects a stake acquisition in StockCross to help Overstock achieve that goal.
The buzz about bitcoin and blockchain has had a strong impact on Overstock's price movement. As of December 22, 2017, the stock has seen a 275.7% rise on a YTD (year-to-date) basis. That compares to the S&P 500 Index's 19.9% return.
Article continues below advertisement
Blockchain is based on distributed ledger technology that tracks transactions in real time. With decentralized data storage, the chances of fraudulent activities are highly minimized. Given the plethora of uses, it has found applications in sectors such as finance and healthcare. Big guns such as Goldman Sachs (GS) and JPMorgan Chase (JPM) have been investing heavily in blockchain technology.
Rationale behind stake buyout
With StockCross, Overstock says it wants to add the "clearing function" in the tZERO ecosystem. tZERO is an SEC (Securities and Exchange Commission) compliant ATS (alternative trading system) working on blockchain solutions that will reduce financial transaction costs and boost transparency in the capital markets.
tZERO recently issued a $250 million ICO (initial coin offering) to fund blockchain efforts. As cryptocurrencies continue to be in the limelight, ICOs have started gaining traction. ICO refers to a method of raising capital by issuing digital coins. Some reports say that so far in 2017, more than $2 billion has been raised through ICOs.
With the ICO floated, Overstock is considering blending the clearing capacity as a much-needed function to boost tZERO's capability as an ATS.
Recently, tZERO acquired a 1% stake in Kennedy Cabot, the parent organization of Siebert Financial (SIEB). Before that, tZERO collaborated with Siebert Financial to offer discounted online trading services.
To know more about Overstock, be sure to read our series Could Bitcoin Mania Help Overstock Maintain Its Momentum?