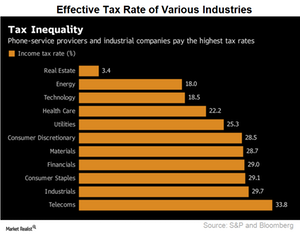 How NVDA, AMD, and MU Could React to the Senate's Tax Bill
By Puja Tayal

Updated
Corporate tax cuts: the cornerstone of the tax bill
What many forget is that the Obama administration wanted to reduce the maximum corporate tax rate to 28%, but it did not specify the tax breaks it wanted to close in order to pay for such a reduced tax.
Now, the Trump administration plans to reduce the maximum corporate tax rate from 35% to 20%, but there's been some debate in the Senate as to whether it should implement this in 2018 or in 2019.
This reduction, if successful, would likely be permanent and could not be fully reversed by future government administrations. Theoretically speaking, the statutory tax rate could potentially be brought closer to a 24% effective rate if all tax breaks were to be removed.
Article continues below advertisement
Republicans in Congress and the Trump administration have gone beyond that and proposed a 20% corporate tax, which is lower than the 24% effective rate, but the 20% tax rate would come without removing all tax breaks. For instance, a business could continue to deduct interest expense up to 30% of the taxable income, and they could also treat capital spending as an expense and deduct it from the taxable income.
Companies would also enjoy the benefits of a territorial tax system in which overseas earnings are taxed at a lower rate or not taxed at all. In the overall tax bill, companies may stand to gain even after accounting for the closed tax breaks, though not all companies would likely benefit.
Tech stock reactions
While the originally proposed tax bill was welcomed by many semiconductor companies (SMH), the Senate's amendments were not as welcomed. Semiconductor stocks fell significantly on December 4, 2017, which was the first trading day after the amendments were announced. NVIDIA's (NVDA), Advanced Micro Devices' (AMD), and Micron Technology's (MU) stocks fell 8.9%, 7.3%, and 5%, respectively.
Article continues below advertisement
Why did tech stocks fall?
Jones Trading Institutional Services chief market strategist Michael O'Rourke stated that the tech stocks had likely already leveraged the tax system's loopholes to enjoy an effective tax rate that is lower than 20%. The new tax reform measures would close those loopholes, offsetting the previously anticipated benefits.
According to S&P Global data, technology, energy, and real estate are the only three sectors that enjoy an effective tax rate lower than 20%. The technology sector has an effective tax rate of 18.5% as they park most of their cash abroad.
Under the current tax system, the earnings of US companies are not taxable unless repatriated to the home country. This tax reform aims to levy a one-time lower tax rate on all overseas earnings, whether the company repatriates the money to the US or not, and these provisions would likely increase tech companies' effective tax rate.