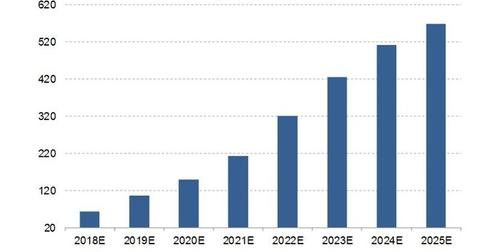 How Nissan Plans to Enter the Self-Driving Car Market
By Sanmit Amin

Updated
The self-driving car race is heating up
The race for driver-less car taxi services is heating up, and in a major way. In November, America's biggest automaker, General Motors (GM), announced that it will be launching a fleet of autonomous taxis in major US cities by 2019. Meanwhile, Alphabet's (GOOG) autonomous car unit, Waymo, has made big leaps in the segment, having already begun testing 100 autonomous Pacifica minivans in Phoenix, Arizona.
Now, Japanese auto giant Nissan (NSANY) said on Tuesday, December 5, that it plans to start testing self-driving taxis in Japan as early as March 2018.
Article continues below advertisement
The Japanese carmaker said that it will be joining hands with Japanese gaming software company DeNA to build autonomous cars that can be called using an app. The robo-taxis will be based on the Japanese carmaker's current generation of Leaf electric cars. DeNA already has experience in developing self-driving mobility services as well as in AI (artificial intelligence).
Is Nissan ahead of other Japanese automakers?
Rival Toyota Motors (TM) is also making autonomous cars based on its Lexus LS 600 hL. Honda Motor (HMC) also has plans to launch autonomous cars. But Nissan's announcement puts it ahead of its Japanese rivals in terms of self-driving taxis.
However, Japan's stringent rules regarding autonomous vehicles have meant that Japanese carmakers have been slower to roll out autonomous cars than their American counterparts have been.