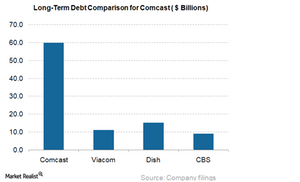 Is Comcast's Mounting Debt a Big Concern?
By Aaron Hemsworth

Dec. 7 2017, Updated 7:32 a.m. ET
Debt comparisons with peers
Comcast (CMCSA) ended 3Q17 with long-term debt of $59.7 billion, compared with $55.6 billion in 3Q16. Higher capital expenditure and increased share repurchases and dividend payments continue to drive its debt levels.
At the end of first nine months of 2017, Comcast's interest expenses stood at $2.3 billion, compared with $2.2 billion during the same period of 2016, and so its rising debt could continue to put pressure on its cash flow through higher interest expenses. Comcast's coverage ratio is now 23.6x, which is below the industry average.
Comcast has higher debt than Viacom (VIAB), DISH Network (DISH) and CBS (CBS), which had long-term debts of $11.1 billion, $15.1 billion, and $9.1 billion, respectively, at the end of 3Q17.
Article continues below advertisement
But despite having one of the highest debts, Comcast maintains one of the lowest debt-to-equity ratios in the industry at 1.17x in 3Q17, compared with Viacom's, DISH's, and CBS's debt-to-equity ratios of 256x, 294x, and 184x, respectively. This indicates that Comcast is not as dependent on debt financing as its major peers.
Reasons for Comcast's debt increases
The launch of its wireless service resulted in huge capital expenditure for Comcast. Generally, telecom operators like AT&T (T) and Verizon have debts above $100 billion. In 3Q17, Comcast's Cable segment incurred capital expenditures of $2.1 billion, which was 0.8% higher than in 3Q16, while NBCUniversal increased its capex by 5.4% to $354 million.
Meanwhile, Comcast is rolling out its DOCSIS3.1 for faster broadband speeds and is expanding its Xfinity platform, which could further increase debt levels. But such initiatives could pay rich dividends for the company going forward, in terms of customer additions and revenue growth.
The company expects the capex of its Cable segment to remain flat at 15% of total Cable revenues, while NBCUniversal expects it to increase it capex by 10%, primarily driven by its theme parks investments. In the next five years, nearly $3.8 billion long-term debt is expected to mature for Comcast, which could put more pressure on the company's cash flows.