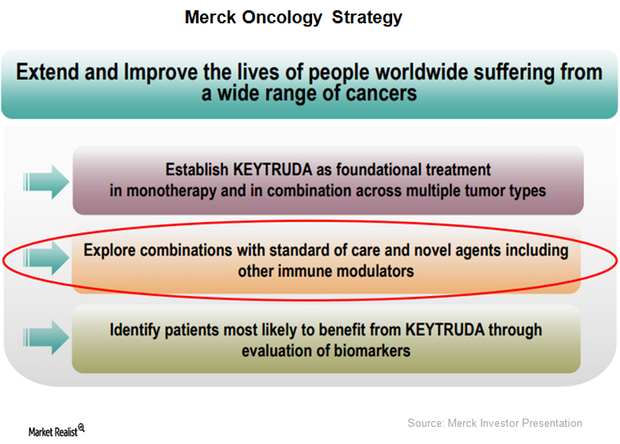 Merck Expects Final Data from Keynote-189 Study by February 2019
By Margaret Patrick

Dec. 19 2017, Updated 7:32 a.m. ET
Keynote-189 study
In its 3Q17 earnings conference call, Merck & Co. (MRK) announced its plans to capture long-term overall survival data in its pivotal Keynote-189 study, which has been patterned after its successful Phase 1/2 study, Keynote-021G. Both these studies aim to demonstrate the clinical benefits of using a Keytruda and Alimta combination regimen for the first-line treatment of metastatic non-small cell lung cancer (or mNSCLC) irrespective of PD-L1 tumor proportion score (or TPS) numbers.
Article continues below advertisement
Enrollment in the Keynote-189 trial, which comprises 600 patients, concluded in February 2017. The study involves two endpoints: overall survival and progression-free survival. Based on the underlying event rate, the study is expected to complete in February 2019. This end date has caused Merck to withdraw its European application for approval of the Keytruda-Alimta combination regimen in a first-line mNSCLC indication.
In the Keynote-024 study, Keytruda monotherapy reported a median survival of 30 months, greater than the 14.2-month survival rate seen in the chemotherapy arm in first-line NSCLC therapy for patients with PD-L1 TPS greater than or equal to 50. These results were achieved despite a crossover rate of 62%. These numbers highlight the clinical potential of Keytruda, and they've helped Merck to compete aggressively with lung cancer player Bristol-Myers Squibb (BMY).
Merck makes up ~4.2% of the Vanguard Health Care ETF's (VHT) total portfolio holdings.
The above diagram shows Merck's overall oncology strategy and Keytruda's role in greater detail.
Research programs
On July 27, 2017, Merck entered into a strategic oncology collaboration with AstraZeneca (AZN) for the co-development and co-marketing of the poly (ADP-ribose) polymerase (or PARP) inhibitor Lynparza, both as a monotherapy and in combination with PD-L1 and PD-1 immuno-oncology medicines such as Imfinzi and Keytruda.
Merck and Tesaro (TSRO) have managed to demonstrate favorable preliminary data for the Keytruda-niraparib combination regimen in certain cancer indications. Merck and AstraZeneca believe in the strong clinical prospects for the Lynparza-Keytruda combination regimen because PARP inhibitors work by inhibiting the DNA repair process in the tumor. The accumulated mutations may help generate targets for T-lymphocyte cells. Beyond checkpoint inhibition, this may help in increasing the responsiveness of the T-lymphocytes in the patient's body.