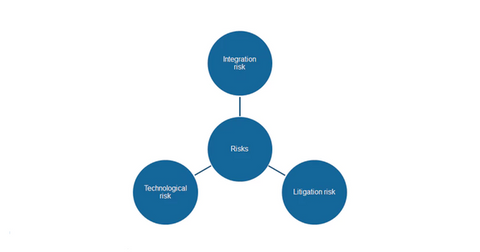 Medtronic Settles Infuse Marketing Probe for $12 Million
By Sarah Collins

Updated
Litigation settlement
On December 13, 2017, Medtronic (MDT) agreed to pay $12.0 million for the settlement of claims of deceptive marketing strategies for promoting the use of the company's Infuse Bone Graft device in spine surgical procedures. The settlement was announced by the Oregon attorney general, and the states of California, Massachusetts, Illinois, and Washington participated in the settlement.
Infuse received limited approval by the FDA in 2002. However, the off-label use of the device has become quite common.
Other peer companies that settled some recent product liability litigation cases include Boston Scientific (BSX), Zimmer Biomet Holdings (ZBH), and Stryker (SYK). As shown in the diagram above, litigation risk is one of the key risks faced by medical technology companies in the United States.
On December 13, 2017, MDT stock rose ~1.1%. The Vanguard Growth ETF (VUG) also witnessed an ~0.16% rise. MDT makes up ~1.3% of VUG's total holdings.
Deceptive marketing claims
The states' allegations against Medtronic alleged deceptive claims about the Infuse Bone Graft with the company-sponsored use of trusted scientific publications. The claims highlighted the superiority of Medtronic's therapy against other available therapies and lower side effects in patients undergoing Medtronic's therapy, which did not include the facts from the actual research results.
However, Medtronic has not accepted these allegations. According to an email by a Medtronic spokesperson, "Medtronic entered into this agreement solely for the purpose of settlement, and nothing related to it can be taken as an admission or concession of any violation of law, rule, regulation or of any liability or wrongdoing."
Other Infuse-related lawsuits
Medtronic has faced more than 6,000 Infuse-related lawsuits for claims of injuries with the off-label use of the Infuse device. The company notes that it has settled more than 4,000 of these cases.
Medtronic paid $22.0 million to patients who had undergone surgeries using Infuse devices. In 2012, the company paid $85.0 million to its shareholders for the settlement of cases alleging that it failed to reveal that most of the Infuse sales by the company was contributed by the off-label use of the device.