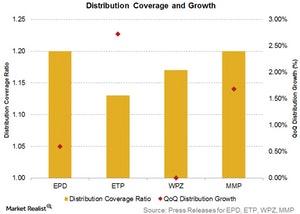 Magellan Midstream Offers Strong Distribution Coverage and Growth
By Rekha Khandelwal, CFA

Nov. 20 2020, Updated 5:21 p.m. ET
Distribution growth
Let's compare the quarter-over-quarter distribution growth for the four MLPs that we are analyzing, Energy Transfer Partners (ETP), Enterprise Products Partners (EPD), Williams Partners (WPZ), and Magellan Midstream Partners (MMP). Energy Transfer Partners increased its third quarter 2017 distributions by 2.7% compared to the previous quarter, the most out of the four MLPs. However, it should be noted that ETP's per unit distribution was effectively reduced by nearly 24% in 1Q17 as a result of the merger with Sunoco Logistics.
Article continues below advertisement
MMP's and EPD's distribution growth
Magellan Midstream Partners increased its per unit distributions by 1.7% in 3Q17 compared to the previous quarter. MMP's quarter-over-quarter distribution growth in 3Q17 was higher compared to ~0.6% for EPD. Magellan aims to increase annual distributions by 8% for both 2017 and 2018 while maintaining distribution coverage of 1.2x each year.
Enterprise Products Partners increased its 3Q17 distributions by 0.6% in 3Q17. The company intends to keep the quarterly distribution growth rate at around this level for 2018 as well. Williams Partners kept 3Q17 distributions flat after a 29% distribution cut in 1Q17. As the above graph shows, all the four MLPs had healthy coverage ratios well above one in 3Q17.
Distribution yields
Of the top four MLPs, Energy Transfer Partners is currently trading at the highest yield of ~13.4%. The recent drop in ETP's prices resulted in a rise in its yield. A complex structure, high leverage, and regulatory hurdles also likely contribute to ETP's high yield.
Enterprise Products Partners and Williams Partners are trading at attractive yields of ~6.8% and 6.5%, respectively. Magellan Midstream Partners is trading at a yield of ~5.3%.
In the next part, we'll analyze the leverage position of the four MLPs under consideration.