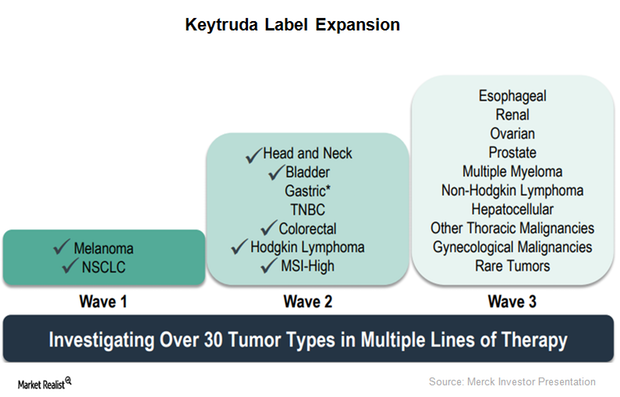 Keytruda Demonstrates Solid Uptake in Multiple Indications
By Margaret Patrick

Dec. 18 2017, Updated 1:55 p.m. ET
Multiple indications
In 3Q17, Merck & Co.'s (MRK) Keytruda reported revenue of close to $1.0 billion. The drug has reported sales of close to $2.5 billion in 2017 on a year-to-date (or YTD) basis. Keytruda earned almost 45% of its US market revenue from indications such as melanoma, head and neck cancer, and the recently approved bladder cancer.
Despite its being the fifth immuno-oncology drug to be launched in the US market for bladder cancer, the drug has managed to attain leadership in the second-line-plus setting in two months.
Article continues below advertisement
On September 22, 2017, the U.S. Food and Drug Administration (or FDA) approved Keytruda in a third-plus setting for patients suffering from locally advanced or metastatic gastric or gastroesophageal junction (or GEJ) adenocarcinoma, where the tumor PD-L1 Combined Positive Score (or CPS) was greater than or equal to 1. However, on December 14, 2017, the company announced that the drug had failed to demonstrate improvement in overall survival or to increase progression-free survival in second-line advanced gastric or GEJ adenocarcinoma indications.
Merck makes up ~0.87% of the Vanguard S&P 500 ETF's (VOO) total portfolio holdings.
Geographical market expansion
Merck has managed to position Keytruda as a leader in the PD-1 class of drugs approved for melanoma in international markets. The company has also witnessed the drug's increased penetration in both first-line and second-line NSCLC indications due to expanding coverage from the payer community.
On September 6, 2017, Keytruda secured approval from the European Commission for treating certain patients suffering from locally advanced or metastatic urothelial carcinoma, a type of bladder cancer, who have been previously treated with platinum-containing chemotherapy or are ineligible for treatment with cisplatin-containing chemotherapy. Merck aims to rapidly secure reimbursement for this indication in multiple European countries. The PD-L1 testing rate in Japan is also increasing to the levels witnessed in the United States. This development may prove useful in increasing demand for Keytruda in Japan in the lung cancer indication.
The rapid penetration of Keytruda across markets and indications has enabled Merck to become a leading immuno-oncology player despite competition from AstraZeneca (AZN), Roche Holdings (RHHBY), and Bristol-Myers Squibb (BMY).