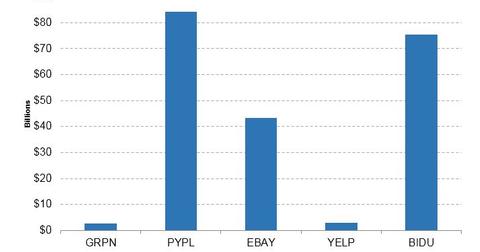 Groupon's Valuation and Debt Position
By Neha Gupta

Updated
A look at Groupon's enterprise value and related multiple
Groupon (GRPN) has an EV (enterprise value) of $2.6 billion for 2017.
Peer companies PayPal (PYPL), eBay (EBAY), Yelp (YELP), and Baidu (BIDU) have EV enterprise values of $84.3 billion, $43.3 billion, $2.9 billion, and $75.5 billion, respectively.
Let's see how Groupon's EV compares with its adjusted EBITDA (earnings before interest, tax, depreciation, and amortization) for the last 12 months. Its EV-to-adjusted-EBITDA multiple for the trailing 12 months is 20.3x. That compares with an EV-to-EBITDA ratio of 10.8x expected in 2018. Its EBITDA margin for 2017 is 4%.
A further look at the company's EV ratios shows that its EV-to-sales ratio for the trailing 12 months is 0.9x, and its EV-to-sales anticipated for 2018 is 0.9x.
Moreover, its trailing 12-month EV-to-cash-flow ratio was 14.1x. That compares with its trailing 12-month EV-to-free-cash-flow ratio of 21.9x.
A look at Groupon's debt position
Groupon's balance sheet reflects a short-term debt and long-term debt of $25 million and $204 million, respectively. That puts its total debt at $229 million. The company reported total capital of $417 million. Its total-debt-to-total-capital ratio is thus 54.9%.
The company's debt-to-assets, debt-to-equity, and debt-to-EBITDA ratios are 0.16x, 122.7x, and 1.82x, respectively. A deeper look into the company's debt ratios as an interest coverage ratio shows that Groupon has an EBIT (earnings before interest and tax)-to-interest ratio of 2.1x.
The company has a debt-to-enterprise value of 9%.
Groupon's price multiple
Groupon's book value per share is $0.34, and its estimated book value per share is $0.37. The stock is trading at a price-to-book value of 15.8x.
Its price-to-sales ratio is 1.02x for 2017. Its estimated price-to-sales ratio for 2018 is 1.05x.
Analyst recommendations
Of the 18 analysts covering Groupon, five have given it a "buy" recommendation, five have recommended a "sell," and eight have recommended a "hold." Analysts' stock price target for the company is $5.33. Their median price target is $5.15.