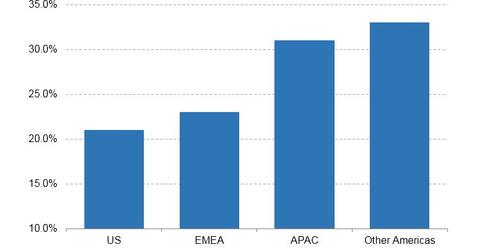 Google Rolls out Files Go around the World
By Neha Gupta

Updated
File-sharing system launches globally
Alphabet's (GOOGL) Google is rolling out its Files Go app globally, now that beta testing has proved that the app could be useful to Android users. Files Go is a file-sharing system available for devices that run Android Go edition (or Android Oreo 8.1).
Google's Files Go allows users find, organize, back up, and transfer files with little effort, compared with conventional file management or sharing methods. Files Go can also be used to free up storage space, and Google noted during the trial period that the app enabled users to save roughly 1 GB (gigabyte) of storage space on the average. Google's Files Go is comparable to Apple's (AAPL) AirDrop, and it supports offline file-sharing.
Files Go could drive growth in emerging markets
But where does Files Go fit into Alphabet's ambition of driving more revenue growth? Files Go is designed for low-end Android smartphones to support speedy file-sharing and backup. As such, the app could contribute to Google's efforts to increase the use of its digital products and services in the emerging markets (EEM), where many people still use less powerful devices and where access to mobile Internet can be intermittent or expensive.
Google roles out India-specific features
Alongside the global release of Files Go, Google also announced a slew of new apps and features specifically designed for Android users in India (INDA). India is a coveted market for technology companies, given its large popular and rapid Internet and smartphone penetration. Amazon.com (AMZN), for instance, is investing $5.0 billion to grow its online retail business in India.
India contributes to Alphabet's APAC (Asia-Pacific) sales. APAC is one of Alphabet's fastest-growing regions. In 3Q17, APAC sales rose 31% YoY (year-over-year), compared with its 21% YoY rise in the US (SPY) and 23% rise in the region that includes Europe (EFA).