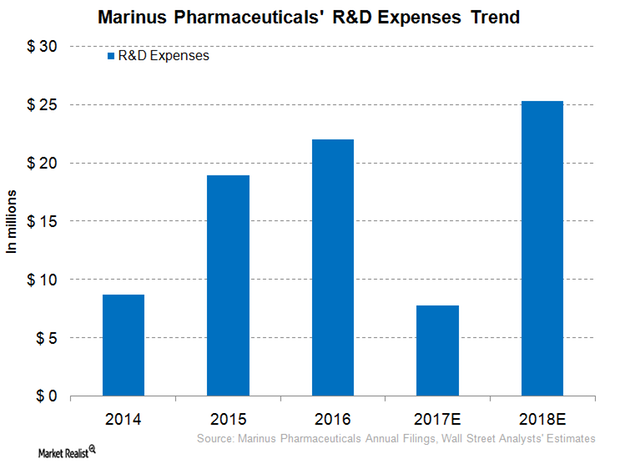 Why Ganaxalone Is a Promising Drug Candidate
By Kenneth Smith

Dec. 27 2017, Updated 11:15 a.m. ET
Ganaxalone's indications
Marinus Pharmaceuticals (MRNS) announced phase two results from its open-label study evaluating the efficacy of ganaxalone in patients suffering from CDKL5 deficiency disorder (or CDD) in September 2017. This study in pediatric epilepsies showed a median decrease of 43% in seizure frequency in a 28-day period, which was the primary endpoint of the study. The secondary endpoint of the study, which was seizure-free days, showed an increase of 78%. According to the company, there haven't been any serious adverse events related to ganaxalone to date. The company is planning to consult regulatory agencies to discuss the clinical development plan and aims to commence a clinical study in 2018.
CDKL5 disorder is a genetic disorder that mainly affects girls and is characterized by difficult-to-control seizures and impairment in neuro-development. The majority of the children affected with CDKL5 cannot walk, talk, or care for themselves. There are no approved therapies for this disorder.
Article continues below advertisement
Postpartum depression
Marinus Pharmaceuticals initiated a phase two clinical trial in June 2017 to evaluate safety and efficacy of ganaxalone in women who are diagnosed with severe postpartum depression (or PPD). Data from this study, called the Magnolia study, is expected in early 2018. The company has also initiated another phase two study, called the Amaryllis study, to evaluate the safety, efficacy, and tolerability of ganaxalone oral capsules in patients with moderate postpartum depression.
Postpartum depression affects around 15% of women in the first year following childbirth. Symptoms include extreme sadness, hopelessness, suicidal ideation, anxiety, and fatigue.
Research and development
Marinus Pharmaceuticals incurred research and development expenses of $2.6 million in 3Q17 as compared with $4.8 million in 3Q16. This decrease was attributable to the discontinuation of the drug-resistant focal onset seizures program by Marinus Pharmaceuticals in June 2016.
In comparison, peers Sage Therapeutics (SAGE), Zogenix (ZGNX), and Zynerba Pharmaceuticals (ZYNE) incurred R&D expenses of approximately $58 million, $21 million, and $6 million, respectively.
In the next part of the series, we take a look at the competitive landscape for ganaxalone.