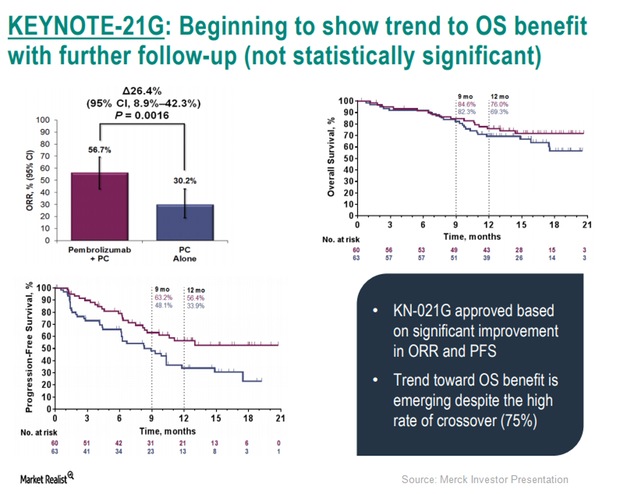 First-Line NSCLC Continues to Be a Major Indication for Keytruda
By Margaret Patrick

Dec. 18 2017, Published 10:52 a.m. ET
Keytruda NSCLC indication
On October 27, 2017, Merck & Co. (MRK) announced that it had withdrawn the regulatory application it had submitted for review in Europe seeking approval for the combination of Keytruda (pembrolizumab) and the chemotherapy agents pemetrexed and carboplatin as a first-line therapy for metastatic nonsquamous non-small cell lung cancer (or NSCLC). This announcement was a major factor in driving down the company's share price 11.7%, from $61.47 on October 26, 2017, to $54.25 on October 30, 2017.
Merck & Co. makes up ~1.3% of the Vanguard Value ETF's (VTV) total portfolio holdings.
Article continues below advertisement
Keynote-021G study
In May 2017, Keytruda's chemotherapy combination regimen was approved by the U.S. Food and Drug Administration (or FDA) in a first-line metastatic NSCLC indication, irrespective of PD-L1 expression levels. The FDA's decision was based on results on tumor response rate and progression-free survival (or PFS) from the Phase 1/2 KEYNOTE-021G study. This study involved 123 treatment-naïve patients suffering from metastatic NSCLC without EGFR or ALK mutations.
The study didn't note the PD-L1 expression levels of these patients. The objective response rate (or ORR) of patients using the Keytruda-chemotherapy combination regimen was almost twice that of patients using chemotherapy alone. These results were based on partial responses from patients and involved a minimum follow-up period of six months and a median follow-up period of 10.6 months. The Keytruda-chemotherapy combination also showed improvement in response duration as well as progression-free survival.
On September 8, 2017, after a median follow-up of 18.7 months from the Keynote-021G study with a cutoff date of May 31, 2017, Merck presented data at a meeting of the European Society for Medical Oncology. These data showed a more marked separation of survival curves, with greater improvement shown by patients on the Keytruda-chemotherapy combination regimen. Additionally, the hazard ratio in the trial had dropped from the 0.90 measured with the median follow-up time of 10.6 months to 0.59 for the median follow-up time of 18.7 months. Because there was a switch of almost 75% of patients from the control arm to the Keytruda-combination regimen, these results highlighted the strong efficacy profile of the Keytruda-chemotherapy regimen in a first-line metastatic NSCLC indication.
Keytruda has thus enabled Merck to post strong competition to other immuno-oncology lung cancer players such as Roche Holdings (RHHBY), AstraZeneca (AZN), and Bristol-Myers Squibb (BMY).
In the next article, we'll discuss Keytruda's 2017 performance in greater detail.