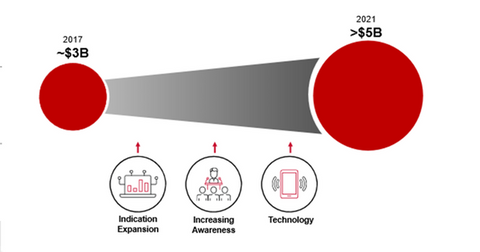 How Edwards Lifesciences Taps the Global TAVR Opportunity
By Sarah Collins

Jan. 2 2018, Updated 10:32 a.m. ET
Overview
Edwards Lifesciences (EW) is the market leader in the THV (transcatheter heart valve) market space, which is estimated to be worth $3.0 billion. The company notes that the TAVR (transcatheter aortic valve replacement) opportunity could exceed $5.0 billion by fiscal 2021, growing at a CAGR (compound annual growth rate) in the mid-teens.
The company expects this growth to be driven by indication expansion, technology advancement, and increase in awareness among patients.
Edwards Lifesciences' Sapien family of products is the TAVR treatment devices portfolio, which currently dominates the market space. Medtronic's (MDT) Corevalve is a competing FDA-approved device.
Another TAVR device, Boston Scientific's (BSX) Lotus, is still under review. Abbott Laboratories' (ABT) Portico TAVR device trials have completed, and the company expects to launch the device in 2019.
Article continues below advertisement
How indication expansion drives TAVR growth
Edwards Lifesciences' TAVR therapy has been undergoing trials for the treatment of severe symptomatic AS (aortic stenosis) patients. While the company's therapy has been approved for the treatment of patients at high and intermediate risk, the trials for indication expansion for low-risk patients are underway.
The TAVR market has a significant opportunity, as there is still a large number of untreated AS patients around the world. The trials for asymptomatic AS are underway, which could expand the patient base.
TAVR Unload is another trial that is underway for the indication expansion for the treatment of moderate AS with heart failure symptoms.
Increasing awareness
Edwards Lifesciences is focused on increasing awareness of the disease and the treatment options for the patients and their families. Also, educating physicians about the therapy and the selection of patients is key to improving the treatment penetration.
Technology expansion and advancement
Edwards Lifesciences is continually investing in its research and development initiatives to strengthen the company's position in the THV market over the long term. Some of the key products in the pipeline include Edwards Sapien 3 Ultra System, Centera, and Alterra. For more on these devices, please read Edwards Lifesciences Focuses on Launch of SAPIEN 3 Ultra and CENTERA Valves.
Investors can consider the Vanguard Growth ETF (VUG) for diversified exposure to Edwards Lifesciences, which makes up ~0.21% of VUG's total portfolio.