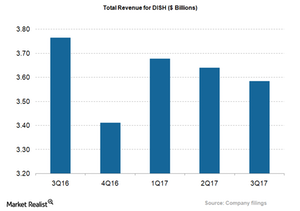 DISH Drives In-Room Hotel Entertainment Service with Evolve
By Aaron Hemsworth

Updated
Revenue growth
In order to drive its top-line growth as well as enhance its in-room hotel entertainment options, DISH Network (DISH), one of the leading satellite TV operators, launched a new innovative set-back box called Evolve in June 2017.
From the graph above, we can see the overall revenue growth for DISH in the last five quarters. In 3Q17, its total revenue fell 4.9% YoY (year-over-year) to $3.6 billion, driven by a 4.8% YoY (year-over-year) decline in subscriber revenue. In the last five quarters, its total revenue fell at a CAGR (compound annual growth rate) of 1.2%.
Article continues below advertisement
Evolve features
The new 4K-based set-back box powered by Android-TV features the Google Play (GOOGL) store, advanced program guide, channel preview, and Bluetooth support. It's also integrated with Chromecast, which supports the streaming of Sling TV and YouTube.
It's also compatible with DISH's Smartbox, which offers a complete TV solution for commercial customers. The new device also supports all video delivery platforms, including QAM (quadrature amplitude modulation) or IP (Internet Protocol) and Internet connectivity over DOCSIS (data over cable service interface specification), Ethernet, or WiFi at 2.4/5 GHz (gigahertz).
In a bid to boost its hotel entertainment service, the company has teamed up with Eleven, which offers a guest Wi-Fi software platform. It allows the hotel to provide a separate PAN (personal area network) for visitors in each room.
The launch of these services could drive the company's equipment business. In 3Q17, its equipment and other revenue fell nearly 10% YoY.
AT&T (T) is also offering a similar service to hotels with DRE (DirecTV Residential Experience), COM1000, and COM2000. These services are launched to target travelers who don't want to miss any of their favorite episodes.