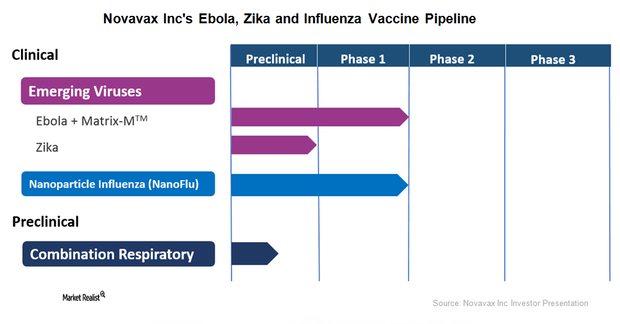 An Overview of Novavax's Influenza and Ebola Vaccines
By Kenneth Smith

Dec. 6 2017, Updated 2:50 p.m. ET
Influenza vaccine
According to Novavax (NVAX), the value of the influenza vaccine market in developed markets is expected to reach $5.3 billion by 2021–2022 compared with $3.2 billion in 2012–2013. This shows the potential market opportunity for the company's influenza vaccine candidate.
After its regulatory approvals, Novavax can manufacture the nanoparticle-based seasonal influenza vaccines in large quantities quickly and cost-effectively without using the live influenza virus.
Novavax initiated its Phase 1 and 2 clinical trials of its seasonal influenza vaccine in September 2017. Data from the trial are expected by the end of 2017.
Article continues below advertisement
Currently, Fluzone from Sanofi (SNY) is the leading vaccine for influenza in the market. In a head-to-head comparison study against Fluzone, the company's influenza vaccine with its Matrix M adjuvant showed higher immune responses against influenza strains. The vaccine together with the adjuvant is called NanoFlu.
Ebola GP vaccine
Novavax (NVAX) is developing a vaccine for Ebola virus. In July 2015, the company announced positive top-line data from its Phase 1 clinical trial of its Ebola GP vaccine. The company also announced successful data from two separate non-human studies for the vaccine in 2015.
Other companies with research programs to develop a vaccine targeting the Ebola virus include GlaxoSmithKline (GSK) and Merck (MRK). Merck is expected to file for FDA approval of the vaccine in 2018.
Zika EnvD vaccine
Novavax is conducting an Investigational New Drug (or IND) program, which enables preclinical studies and studies in non-human primates for developing a vaccine against the Zika virus. In 2015, the Zika virus spread in South, Central, and North America. The virus spreads through mosquitoes and sexual transmission.
In serious cases, the virus can lead to Guillain-Barré syndrome in adults, which can cause the body's immune system to attack nerve cells and result in complete paralysis. If women are affected by the virus during pregnancy, it can cause microcephaly in infants.
The company is also targeting a Combination Respiratory Vaccine program for RSV and seasonal influenza. This vaccine is currently in the preclinical stage of the drug development process.
Novavax makes up about 0.06% of the iShares NASDAQ Biotechnology ETF's (IBB) total portfolio holdings.
In the next part of the series, we'll take a look Novavax's financials.