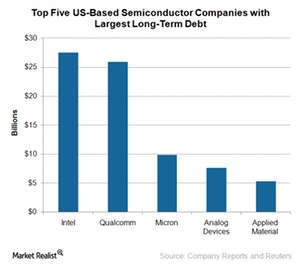 Why Dell and Other Tech Oppose the Senate's Interest Deduction Provision
By Puja Tayal

Dec. 11 2017, Updated 7:30 a.m. ET
Interest expense deduction
While House Republicans proposed to cap the interest expense deduction at 30% of EBITDA (earnings before interest, tax, depreciation, and amortization), the Senate's version amended this provision to 30% of EBIT (earnings before interest and taxes), reducing the amount of interest expenses that a company can claim for tax credit.
Narrowing the interest deduction for tax credits could prove to be costly for some companies with higher debt. For this reason, some industries have written the US government to express that this amendment would add more than $300 million to the tax bill of innovative businesses over the next ten years.
Article continues below advertisement
Impact on semiconductor and technology industries
Over the past two years, the technology industry (QQQ)—the semiconductor sector, in particular—underwent a big wave of consolidation that witnessed some of the biggest M&A (mergers and acquisitions) deals in history. This significantly increased leverage of most combined companies. The interest deduction provision could thus prove to be a disadvantage to many highly levered companies and could offset the benefits arising from other tax provisions.
Dell senior vice president of global tax Tom Vallone told the Wall Street Journal that his company bears an annual interest bill of $2 billion. At a 20% tax rate and a 30% interest deduction, the company would bear an annual tax bill of $200 million.
Intel (INTC) has increased its long-term debt by ~$15.5 billion over the past three years from $12 billion in 2014 to $27.5 billion in 2017 as it made two major acquisitions of Altera and Mobileye. Now, Qualcomm (QCOM) will also increase its long-term debt to $26 billion after it completes the acquisition of NXP Semiconductors (NXPI) in calendar 1Q18.
These companies' high leverage will lead to higher interest expenses, and interest deduction capping, many argue, would keep these companies from getting sufficient tax credits and keep them from repaying their high-interest debt faster. Some argue that this could also discourage future M&A deals as well.