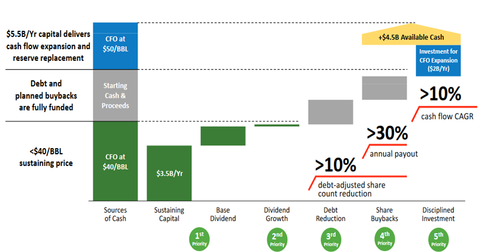 ConocoPhillips's Key Cash Allocation Priorities for the Next 3 Years
By Nicholas Chapman

Updated
ConocoPhillips's key cash allocation priorities
As we discussed in the previous article, ConocoPhillips's (COP) value proposition is designed to deliver value through energy price cycles involving key cash allocation priorities.
As shown in the chart below, ConocoPhillips has several key cash allocation priorities for the next three years (2018–2020) at $50.00 per barrel of WTI crude oil. These priorities include investing sufficient capital to maintain flat production and pay a base dividend. COP also plans to grow its dividend per share annually, reduce its debt to $15.0 billion, and target an "A" credit rating.
ConocoPhillips plans to pay 20.0%–30.0% of CFO (cash flow from operations) to shareholders via share repurchases. COP plans to allocate cash to high-return investments to drive cash flow.
To achieve its key cash allocation priorities of debt reduction, share repurchases, and disciplined growth capital, ConocoPhillips (COP) has executed several accelerated actions. These actions include an asset sale program as well as a capital shift to short-cycle unconventional programs in 2017.
We'll study ConocoPhillips's debt reduction in Part 11, and we'll cover its plans to return capital to its shareholders in Part 12 of this series.
Article continues below advertisement
Three-year plan
For the next three years, ConocoPhillips (COP) is planning to invest $2.0 billion per year in high-return projects to expand operating cash flow at $50.00 per barrel of WTI crude oil. These investments would include $1.3 billion per year in short-cycle unconventional projects, $500.0 million per year in future major projects, and $300.0 million per year in exploration.
At the end of 2020, COP expects to have a cumulative cash balance of $4.5 billion after meeting its priorities at $50.00 per barrel of WTI crude oil.
ConocoPhillips's cash allocation priorities do not reflect its guidance for the next three years. They represent how the company plans to spend its cash at $50.00 per barrel WTI crude oil.
S&P 500 (SPY) companies such as Devon Energy (DVN) and Marathon Oil (MRO) are also focusing on short-cycle projects in 2017. They would divert the majority of their cash spending to US unconventional resources.